Welcome to Free Online Art Classes!
Is This Website Really Free???
Yes, REALLY FREE! Compare other art instruction websites with mine and you will see that I have the only one that offers quality art instruction at no cost to you! No CD's to buy. no links to other websites that demand fees for learning. You don't even have to log in (I'm not collecting names and email addresses, I'm just teaching art.)
Check out FREE ONLINE ART CLASSES and you will see that this website has tons of information-rich art lessons I have written plus hundreds of my art and cooking videos that show you exactly how to master creativity skills in art and cooking. And yes, these are all FREE TO YOU!
I have created this website from over fifty years of experience as an art instructor, cookbook author and artist. This website is an ever-expanding series of my step-by-step art lessons and videos. Here is good instruction, rich information and links relating to creativity in many areas including gardening, lighting, homeschooling, travel, aging and cooking. And ALL of these are FREE to you!
Click here to read the recent New York Times article about me and this website!
You will see ads interspersed with my pages but you don't have to click on them unless you find them informative and interesting. I I have placed ads on my website to monetize it--to augment my very low budget and the ads help to keep this website really free to anyone who wants to learn about art.
And...if you live in or around Wilmington, North Carolina...
my local monthly art workshops are listed here. Just click on the "Wilmington Classes" button on the left to see the schedule of my monthly local art classes or click on this link!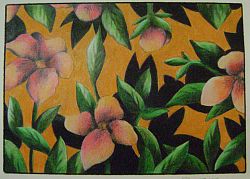 What Do You Want To Learn Today?
Colored pencils?
Here's my colored pencil drawing, "Lilies 2013"
Colored pencils offer vibrant color, easy shading, ability to draw detail and develop of solid areas of color. Colored pencils can be purchased individually or in sets of 12, 24, 36 or more!
A fun way to draw with color, try the colored pencil lessons by clicking on the "Learn Colored Pencils" button on the left. Through easy step by step lessons you will learn how to create beautiful colored pencil drawings. AND if you'd like to learn drawing skills first, just click on the "Learn Basic Drawing" button above it. Not sure? Click on any or all of the art lesson and art resources buttons on the left to find your area of interest!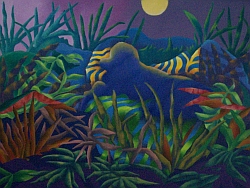 Oil Painting?
Here is my oil painting, "Charley On Striped Cushions"
Oil paints offer beautiful colors that showcase brushwork and make gradation of light and shadow easy. Acrylic paints are popular also, and each has its own qualities. Oils are less transparent and, for the most part, have a heavier body than acrylics. Oils clean up with turpentine and acrylics clean up with water.
Oils or acrylics? Which do you want to try? You can learn about both and see which medium you like the best! Just click on the "Learn Oil Painting" or "Learn Acrylic Painting" buttons on the left. These painting lessons are offered at three different levels--Beginning, Intermediate and Advanced. Find out which level is right for you! Not sure what you want to learn? Click on any or all of the art lesson and art resources buttons on the left to find the your area of interest!
Drawing With Pen And Ink?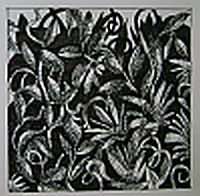 Here's my pen and ink drawing, "Vines and Leaves."
There is an awesome assortment of pens on the market these days! Fat, brush-like pens, chisel-point to make thick and thin lines, fine point that produce a delicate, hair-like line. Some a black and some come in a variety of gorgeous colors! All are fun to use. Through easy to follow, step-by-step lessons you can learn how to make beautiful drawings with pen and ink!
Want to try pen and ink drawing? Just click on the "Draw With Pen and Ink" button on the left. Not sure what art lessons you want to take? Click on any or all of the art lesson and art resource buttons on the left to find your area of interest!
At Free Online Art Classes
you will find information-rich art instruction presented in the simple, step-by-step format I have developed as a successful learning method for my students. AND for many of the lessons, I have created videos to show you exactly how to develop the basic techniques you will need to master specific artistic skills.
I am also an avid cook and toaster oven enthusiast! I have written a cookbook entitled, "Pop It In The Toaster Oven" which is available anywhere online or at your favorite bookstore! Check out the "Artful Cooking" button on the left to see my cooking videos and tasty, low fat toaster oven recipes!
View ALL of my art and cooking demonstration videos at my Palate and Palette YouTube Channels!
I have also written many Ezine articles on art, lighting and creativity. Click here to read my recent Ezine article"The Fragile Quest," and to see all of my other Ezine articles!
FREE quality art instruction, FREE art links, FREE art resources and over 150 FREE learning videos! That's what Free Online Art Classes is all about!
What do you want to learn today? Be creative, live longer, be amazed and amazing!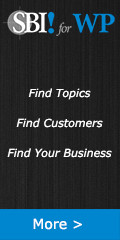 BESTWEBA1.COM. A blog,newspaper with every information that you need.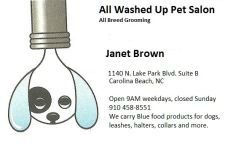 All Washed Up is our Favorite Grooming Place!

Find out more about the Cape Fear Literacy Council!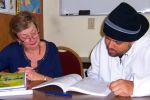 Wilmington NC Art Classes--Something for everyone, sign up now!
Art Lesson FAQ's-Frequently asked questions about art lessons.
Learn About The Artist Within You, Discover You Artistic Self! Six Fun, Easy and Rewarding Lessons Tap Your Creative Abilities. Learn To Think Creatively Through Art Projects.
Learn Basic Drawing. Six Lessons--Learn drawing basics of line, tone, shading and drawing what you see.
Draw withh pen and ink. Learn how to use this medium, black and white contrasts, crosshatching for gradations.
Learn Conte Crayon. Six easy, fun and rewarding lessons in a step by step, information-rich format to guide you towards drawing skills with this wonderful medium!
Learn To Draw With Colored Pencils. Learn how to shade,highlight,blend colors,--through six fun, easy and rewarding lessons!
Learn Oil Pastels,an easy, fun and rewarding way to be creative. Easy to use and beautiful colors!
Learn Acrylic Painting--Three Learning Levels--Beginning, Intermediate And Advanced.
Learn oil painting-the medium of the masters! By using this step by step method, the student is first acquainted with mixing colors and the properties of oil paint.
Learn Collage, a unique and fascinating art form using common, everyday materials and your imagination.
Learn Printmaking--Six easy, fun and rewarding step by step lessons that show you how to develop your skills in printmaking. Basic techniques covered.
Mixed Media
Learn How To Make Jewelry--Skills and techniques of beading, using semi-precius stones, a directory of findings and much more!
Fabric Printing-Here's an easy step by step lesson that will introduce you to my fun and easy technique of printing your own original images on fabric.
Water Color-Learn how to paint with water colors from this information-rich website. All you need to know about the basics and to develop your water color painting skills!
Art Projects - Short and sweet, for a rainy day, Girl or Boy Scout Groups or anyone who wants to learn creative skills, use their imagination and make something with their own hands!
Art Lesson Videos--A great collection of my information-rich art videos.
Finding Subject Matter--Where do you look for content for painting and drawing?
Artful Lighting--Quality of light can change your life. Replace bulbs, lamps, sconces, overhead fixtures and be inspired!
Artful Aging--A great opportunity to begin to create!
The Artful Life Program--an lifelong learning initiative, a program specificallly written for retirees.
Artful Inspiration-Here's a place for creative people to gather and exchange ideas, concepts, websites!
Artful cooking. Make meals masterpieces. Review my toaster oven cook book. Here is a source of luscious recipes and a celebration of the creative cook in all of us.
Artful Gardening--beautify your backyard, patio, frontyard with creative gardening techniques.
Art Tours and Travel--Take a cultural journey, stay at artists's retreats
Homeschooling,many parents have chosen the provide a quality educatiion for their children. Quality learning and personal guidance puts kids ahead of the class!
Art Marketing. Want to sell your artwork? Need some good, sound advice and information? There are great sites that can deliver this to you!
Art Therapy is a burgeoning health care service that offers good career opportunities.
Lois DeWitt Gallery
I have written and iillustrated two children's stories--"Black Charles and Mrs. Gray" and "When Kevin Was King"." I hope you enjoy reading them!
Contact me--
Requesting donations for Free Online Art Classes---Why? New laws passed in NC have made it difficult for online business to survive.