Welcome to Free Online Art Classes!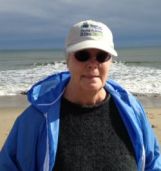 I have created this website from over fifty years of experience as an art instructor, artist and cookbook author. This website is an ever-expanding series of my step-by-step art lessons and videos. Here is good instruction, rich information and links relating to creativity in many areas including gardening, lighting, homeschooling, travel, aging and cooking. And ALL of my offerings are FREE to you!
And I have augmented my art lessons with links to high quality art instruction websites and have added pertinent, quality websites to many of my art resource pages. 
Click here to read the New York Times article about me and this website!
And...if you live in or around Wilmington, North Carolina, my local monthly art classes are listed here. Just  click on this link!
My colored pencil drawing, "Lilies 2013"

What do you want to learn today? Colored pencils?
Colored pencils offer vibrant color, easy shading, ability to draw detail and develop of solid areas of color. A fun way to draw with color, just click on the link below and through easy step by step lessons you will learn how to create beautiful colored pencil drawings.
Go to my Learn Colored Pencil Lessons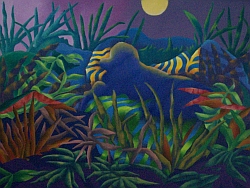 My oil painting, "Charley On Striped Cushions"

Oil Painting?
Oil paints offer beautiful colors that showcase brushwork and make gradation of light and shadow easy. Acrylic paints are popular also, and each has its own qualities. Oils are less transparent and, for the most part, have a heavier body than acrylics. Oils clean up with turpentine and acrylics clean up with water.
Oils or acrylics? Which do you want to try? You can learn about both and see which medium you like the best! Click on the links below to find out...
Go to my Learn Acrylic Painting Lessons
Go to my Learn Oil Painting Lessons
My pen and ink drawing, "Carolina Beach State Park."
Drawing With Pen And Ink?
There is an awesome assortment of pens on the market these days! Fat, brush-like pens, chisel-point to make thick and thin lines, fine point that produce a delicate, hair-like line. Some pens are black and some come in a variety of gorgeous colors! All are fun to use. Through easy to follow, step-by-step lessons you can learn how to make beautiful drawings with pen and ink! Click on the link below to learn more about drawing with pen and ink!
Go to my Learn Pen and Ink Drawing Lessons
---
As an avid cook and toaster oven enthusiast, I have written a cookbook entitled, "Pop It In The Toaster Oven" which is available anywhere online or at your favorite bookstore. It has over 250 easy to make, healthy recipes for entrees, soups, desserts and much more. See some of the recipes on my Artful Cooking Website page and find out how I wrote the cook book and tested the recipes! Order it here!
Go to my Artful Cooking Website Page
Contact me with your questions and comments.  Just fill out the form below....and thanks for visiting my website!