Learn Water Color
You've always wanted to learn how to paint with water colors, but...
Perhaps the water color class was scheduled for a time that was inconvenient for you. Or, maybe it was too expensive. Some of my students have told me that it took them years to get up the courage to learn water color painting. Why did it take so long? The main reason was that water colors can be intimidating. After all, it is hard to erase or paint over a water color (although not impossible.)
So, suspecting that the first brush stroke put down had to be exactly the right one, kept many people from enjoying working with water colors!
Now is your chance to Learn Water Color! I have written six simple, fun and information-rich lessons to help you develop your watercolor skills and techniques. No need to be cautious or scared of the process. You'll end up encouraged and rewarded by the skills and techniques you will learn!
What You Will Learn
Be prepared to be invigorated by painting with water colors! Of all the art media available today, water color is the most spontaneous and dynamic.
Without the flexibility of erasing and correcting, water color is an instantaneous process that requires almost as much "not painting" as "painting."
From my experience, students that have mastered many painting techniques still have tendencies to over-paint. At the end of the lessons, you will know what to put down and when and when to quit!
Through the six basic water color lessons, you will learn about what materials to use to get the best out of your painting.
In addition, you will learn basic water color techniques, including: color mixing, how to paint wet-on-wet, how to paint wet-on-dry, color layering for vibrant color effects, color blending, painting light and shadow, letting the white of the paper make light, drawing for water color, expressive brushstrokes, sponging, masking, spraying, splattering and splashing techniques for water color dynamics.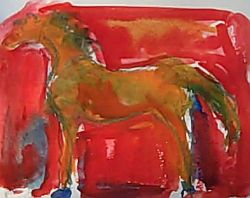 "Red Horse"
Water color painting
By Lois DeWitt

I teach a "break-through" method in my water color classes, which I found useful for students who are just beginning to learn water color techniques.
This carefree method of doing really quick water color exercises with a lot of splashing, sponging and great fun is also useful to experienced water colorists that need to loosen up and lighten up their skills and perspectives.
Watch my video on my water color break-through method. I developed this exercise for beginners that were cautious about learning water color techniques and for anyone he needs to get their creative juices flowing again!
Ready to begin the six Water Color Lessons?