Art Marketing
ART MARKETING--TO MARKET OR NOT TO MARKET
With over thirty years teaching experience, I have seen many of my students' skills and talents develop through my art classes. At the end of the classes, and especially in the advanced classes, when they are flushed with success and eager to be part of the art world, the topic of marketing their art work is discussed.
Art Marketing is a topic not all students want to deal with. Characteristically, the most outgoing students are more eager to approach a gallery with their work. But not all are like that. There is always a certain percentage of students who are reluctant to show their work. It is perhaps, they feel they are not ready to expose their creative endeavors to the public, and this is understandable. Culminating a period of art instruction does not necessary lead to showing art work especially for those students. I respect their feelings and agree that if they do not feel they are ready for exposure, they, indeed, should not expose themselves.

Art is very personal, development of skills and techniques is a rather intimate experience and the very soul of the artist is represented by their artwork.
So, it is no wonder that some students reply, "I'm just really not ready to show my work," or "Maybe next year," or "It's not important to me right now."
For those students that are interested in marketing their art work I give them guidelines for finding a good venue for their initial exposure.
This information, which I have found successful with students over the years, I have written in an Ezine article: "Launching A Successful Career As An Artist." An exerpt is below.
A DIALOG WITH YOUR WORK
It is important for anyone launching an art career to have a direction toward their development and to keep that development alive. The very act of creativity can be dulled or detoured by an artist presupposing future works. The dialog an artist has with your work changes with each new piece. Each successive work causes an adjustment in direction: a revelation, an inspiration that alters the creative path. It seems that creative work has a life of its own which grows and is nourished by communication with its creator.
AVOID BECOMING AN ASSEMBLY LINE
It is possible to work successfully, heedless of the changes inspiration and innovation bring on. This often happens when an artist finds a successful and profitable "niche" and repeats over and over the same subject matter, style and techniques of working over a period of years. The market will always want the same or similar product, to guarantee a reliable value. It is regrettable, however, that many artists in this creative stasis, refuse to develop their full capabilities and are forever tied to the intrinsic values of their work.
Read the rest of my Ezine article: "Launching A Successful Career As An Artist"
ARE YOU A SURVIVOR?
Financial consultants can help your money problems. Consignment stores can supply good, used clothing, shoes and other useful items. Maybe you can find a roofer who will set up a payment schedule for the repair work. This will help you to survive materially. But, have you noticed that your hopes and positive attitude tanked with the stock market?
We've all gone a bit far thinking that running fast and acting quickly will help us become more solvent. Maybe that really just does happen in the movies. In this tumble-down economy, we are running for cover--back to our porches, back to dinners at night around the dining room table, back to short-distance driving, buying cheaper products and looking for sales and low-priced items in the grocery store.
Read the rest of my Ezine article: "A Cure For Bad Times"
And from my own experience I can say that surviving as an artist, even a part time artist, takes courage, confidence and determination. It helps to be able to show your work in a gallery or some other type venue, like your church, Kiwanis club, community art center or even periodic tag sales.
Presenting your artwork to others makes you aware of their responses, and although we all seek compliments and encouragement, even negative responses are useful to see ourselves as others see us.
I have an obligation to the first viewer--myself, and I try as best I can to be in close alignment with my creative abilities and inspirations in that personal relationship. The "second circle" of friends and other viewer' s response is important, but it does not determine how I research and develop my own art work.
That said, I cannot leave this paragraph without mentioning the power of the Internet. Putting my artwork online, in my website or other blogs does not guarantee sales, but it helps to increase my viewership and expand my artistic experience.
I have created (to date) two websites which display my artwork, give information about me and provide either direct paypal shopping cart facility or contact links to pricing and purchasing. Websites like these are especially helpful for beginning to launch a display of artwork online because there is no initial cost, domains can be purchased easily, they link with all the well-known social media like facebook, reddit, tumblr, etc. They also offer extra services for promoting and monetizing.
When a student is ready to display their work, my response is, "Good! Sign it and sell it! And don't give up if you have no sales. Like any other business you have to work on the quality and sincerity of your product and getting it out to the public."
I have shown my artwork locally in various galleries, restaurants. the Aquarium at Fort Fisher and the Visitors' Center at Carolina Beach State Park.
I also have my artwork online at the websites below: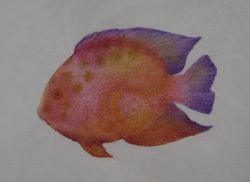 Click here to view my Seacoast Online Gallery.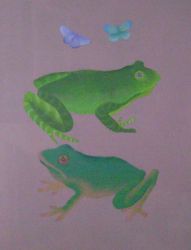 Click here for my Artworks Online Gallery



Here is some excellent reading that provides great guidance and crucial information for marketing your artwork.
Want to know how to Succeed in Art AND Business?
This brand new 3 hour video with 94 page workbook
is packed FULL of powerful practical techniques &
priceless insider knowledge to help you on your way.
Click here to learn more: http://www.1shoppingcart.com/app/?Clk=4452653


we have a simple philosophy: to bring you an exclusive and unique range of quality made contemporary canvas prints at an affordable price. We don't mass produce our canvas art, in fact we don't carry any stock. Instead we individually print and hand craft each canvas to order.


I DON'T KNOW MUCH ABOUT ART BUT I KNOW WHAT I LIKE.
Perhaps you've gone to a gallery or art museum, looked at the artwork displayed and said to yourself, "What the heck is that? I can't understand it! Why is this here in a gallery?"
Or, maybe you've gone to a gallery or art museum and your reactions was, "Wow! Great stuff! I like this! I don't know why, but I do!"
Or, maybe you've gone to a gallery or art museum, and, after viewing the exhibits, you walk away feeling bored and disinterested. You may have said to yourself, " Why do I bother with looking at art? I never understand it. It's beyond me."
Like any other discipline, art requires the viewer to be knowledgeable about the information it presents. Sometimes we think we should just automatically understand art. After all, there it is, just hanging there on the wall and all we have to do, we think, is just look at it. But do we really SEE it? Often, our response may be, "I don't know much about art, but I know what I like." That is just another way of saying, "What I like is really just based on my ignorance."


Click here to see my Ezine article on " Improve Your Life Through Art"
Click here to read my Ezine article: "Art Appreciation--A Rich, Rewarding Experience



Show Your Own Art Gallery
Are you looking for a market place for your paintings and drawings? Our on-line art gallery is open to every artist worldwide. Become a member and create your own portfolio in a few simple steps. We also have facts about Famous Artists and much more. Welcome in!
How do you market your art? Do you have other strategies than those listed here?  Are you successful in selling your artwork?  Do you find marketing your art to be a real challenge? Contact me!  I welcome your comments, suggestions and questions!