Lois DeWitt Gallery
About me...
I hold a BFA degree from the Minneapolis College of Art and Design and a MFA degree from Pratt Institute, NYC. I have worked in many art areas, including art Instructor at Middletown Community College, art instructor at the New York City Friends School, director of a ceramic studio in Ancramdale, NY, supervisor for the North Miami facility of the Miami Metropolitan Museum and initiating studio-site concept art classes in Boston, Falls Village, CT and Wilmington, NC.
I am fascinated by the flora and fauna of this coastal area. During my frequent walks in Carolina Beach State Park with my Standard Poodle Charley, we have made the acquaintance of pine snakes, box turtles, fox squirrels, crows, chickadees and many other Park residents. Carolina and Kure Beaches provides an amazing variety of citizenry including crabs, sea turtles, dolphins, sharks and sea birds.
These have become my oil painting and water color subjects, often drawing into their shapes with symbols and writing as my personal effort to guard these fragile species against the ever-increasing threats we humans impose on them. If a sea turtle in my water color has "live long and prosper" written over and over on its shell, my hope is that will truly happen.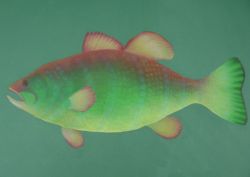 "Bass Baby"
Oil painting by Lois DeWitt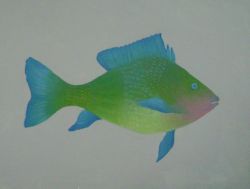 "Bluefin"
Oil painting by
Lois DeWitt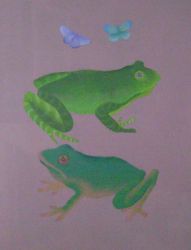 "Frog Duo"
Oil painting by
Lois DeWitt

"Jester"
Oil painting by
Lois DeWitt

"Holy Mackerel"
Water color by
Lois DeWitt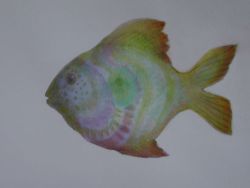 "Homeschool"
Water color by
Lois DeWitt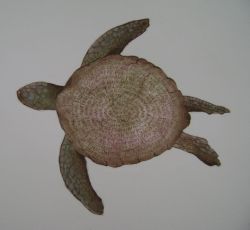 "Live Long and Prosper" SOLD
Water color by
Lois DeWitt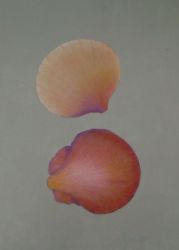 "Conversation"
"Oil Painting by
Lois DeWitt


I welcome your comments, suggestions and questions.  Just contact me below!