Lois DeWitt Gallery


Information Lois DeWitt
I hold a BFA degreefrom the Minneapolis College of Art and Design and a MFAdegree from Pratt Institute, NYC. I have worked in many art areas: Art Instructor at Middletown Community College, art instructor for the New York City Friends School, director of a ceramic studio in Ancramdale, NY, supervisor for the North Miami facility of the Miami Metropolitan Museum and initiating studio-site concept art classes in Boston, Falls Village, CT and Wilmington, NC.
I continue for to research the many art skills and techniques that fascinated me over 50 years. My constructions, quilts, wall hangings, ceramic sculptures, light boxes, fabric -printed paintings, colored pencils drawings and prints have been exhibited in Miami, New York City, Lenox, MA, Boston, MA, and Wilmington, NC and are in many private and corporate collections.
If you live in the Wilmington, NC area, I invite you too my Sunroom Studio where I teach painting, drawing, and finding your artist within. My classes are limited to four students--this gives me the opportunity to work individually to help them find their own personal creative path!
Just click here for more information on my Wilmington, NC classes.
AND, the art lessons I've created for this website will inspire you to find your own hidden creative talents (yes, we all have them!) Please check out the art class buttons on the left to find what you want to learn--and yes, all my art instruction is FREE to you! Why not get creative today?
About my oil paintings...
My oil paintings began four years ago. I was looking at old photos of my past New England life and began faithfully painting those Pentax scenes.
In retrospect, each photo I chose was all about light. Not so surprising as I am a certified lighting specialist and have been working in the lighting/retail for nine years.
At 72, I still have to make time to examine my domestic environment for the right light on the right object. Inspiration is all around me, I just have to make time to snag it. When it reveals itself, I take a photo that later may become the beginning of a painting.
Sometimes lovely images come into my head. I draw those directly on the canvas and they become a painting. Between my photos and my imagination, the quest is endless and keeps me on a continual journey of painting color and light from my domestic scene or my imagination.
Paintings are either wrapped canvases or framed. Frames are solid wood, simple: 1/2 inch in width by 1/2 inch in depth Frames are painted with a color that complements the painting.
About purchasing my oil paintings..
You can easily and securely purchase my paintings through Paypal.
The price of a painting includes shipping, handling and tax.
If, for any reason, you are not completely satisfied with your purchased painting, please return it to me. Just email me (my email address is at the bottom of this page.) I will give you the return address and when I receive the painting, I will promptly refund to you your purchase price.
Please do contact me if you require further information. I respond promptly. My email link is at the bottom of this website page.
"My Two Poodles" 2012
26 x 32" framed
Oil painting by Lois DeWitt
$250.00
"Charley On Striped Cushions" 2012
18" x 24" framed
Oil painting by Lois DeWitt
$230.00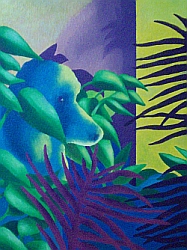 "Poodle and Plant" 2012
9" x 12"
Oil painting by Lois DeWitt
$85.00
"Anni's Spring" 2012
9" x 12" --gallery wrapped canvas
Oil painting by Lois DeWitt
$85.00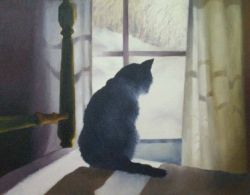 "Patti's Winter" 2012
9" x 12" --gallery wrapped canvas
Oil painting by Lois DeWitt
$130.00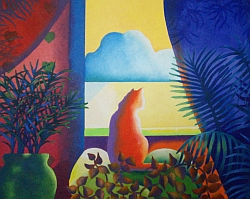 "Sunset Cat" 2013
16 x 20" framed
Oil painting by Lois DeWitt
$180.00
"Charley In The Woods" 2012
9 x 11" framed
Oil Painting by Lois DeWitt
$75.00
"Portrait of Charley" 2012
17 x 20" framed
Oil painting by Lois DeWitt
$180.00
"Walk Wishes" 2013
17 x 20"
Oil painting by Lois DeWitt
$180.00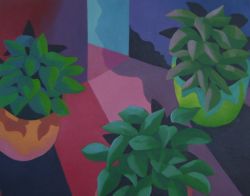 "Mr. Oatram's Plants" 2014
17 x 21" framed
Oil Painting by Lois DeWitt
$150.00
"Four Green Pears" 2014
17 x 21" framed
Oil painting by Lois DeWitt
$150.00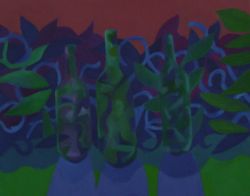 "Green Wine Bottles" 2014
12 x 15" framed
Oil painting by Lois DeWitt
$100.00
"Noonsnooze" 2014
17 x 21" framed
Oil painting by Lois DeWitt
$150.00
"Domestic Bliss" 2014
17 x 21" framed
Oil painting by Lois DeWitt
$150.00
"Two Pots of Seedlings" 2014
12 x 15" framed
Oil painting by Lois DeWitt
$100.00
"Five Pots of Seedlings" 2014
15 x 20" framed
Oil painting by Lois DeWitt
$130.00
"Bell Peppers" 2014
12 x 15" framed
Oil painting by Lois DeWitt
$100.00
"Rolling Oranges" 2014
12 x 15" framed
Oil painting by Lois DeWitt
$100.00
"Hoop Cheese" 2014
17 x 21" framed
Oil painting by Lois DeWitt
$150.00
"Lattes" 2014
12 x 15" framed
Oil painting by Lois DeWitt
$100.00
"Profiles" 2014
12 x 15" framed
Oil painting by Lois DeWitt
$100.00
"Shady Mares" 2014
9 x 11" framed
Oil painting by Lois DeWitt
$75.00
"Burning Bright" 2014
9 x 11" framed
Oil painting by Lois DeWitt
$75.00
"Star Apples" 2014
12 x 15" framed
Oil painting by Lois DeWitt
$100.00
"Catstripes" 2014
9 x 11" framed
Oil painting by Lois DeWitt
$75.00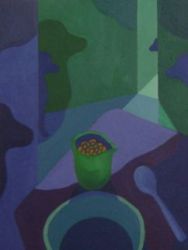 "Kibble Dreams" 2014
9 x 12" gallery wrapped canvas
Oil painting by Lois DeWitt
$75.00
"Dogs and Geese" 2014
8 x 10" gallery wrapped canvas
Oil painting by Lois DeWitt
$70.00