Draw With Colored Pencils
Click here to read my ezine article on "Sensual and Artful Colored Pencils"
Click on the ezine logo below to read all of my articles!
Colored pencil drawing
by Lois DeWitt


Welcome to Colored Pencil Drawing! Watch my video to find out more about these FREE lessons and what you can expect to learn!

Learn to draw with colored pencils
Through six easy, fun, step by step lessons you will learn how to shade and create highlights, blend colors to create rich color, draw what you see, and work toward your own stylization.
Exercises include: The Power Of Doodling, Shading and Highlights to Create Volume, Drawing A Still Life, Drawing A Landscape, Drawing Yourself, and Finding Your Style.
Also, the basic techniques of light and shadow , form, line quality, expression, movement and dynamics, texture, and composition will be covered in the six lessons.
"Poodles In Paradise"
Colored pencil drawing
By Lois DeWitt
Check out my video about my colored pencil drawing technique...
Click here to view "Colored Pencils—My Technique"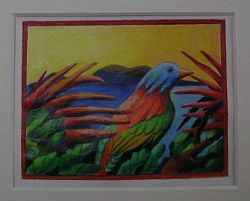 "Hot Tropics Bird"
Colored pencil drawing
By Lois DeWitt
This is a great six lesson course for anyone wanting to explore colored pencils as a rich and exciting artistic medium. No previous drawing experience necessary.
Colored pencils are a wonderful way of drawing, creating brilliant, permanent color and whether you have drawing skills or not, colored pencils offer and wonderful expressive, creative medium to work with.
If you want to augment your drawing skills, click on the "Learn Basic Drawing" button on the left.
If you have some drawing skills already, refresh and invigorate your skills by learning how to create beautiful drawings with colored pencils!



Click here to start your FREE Drawing With Colored Pencils lessons.