Draw With Colored Pencils
Click here to read my ezine article on "Sensual and Artful Colored Pencils"
Click on the ezine logo below to read all of my articles!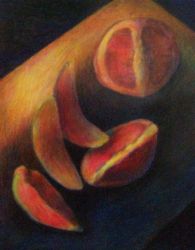 "Grapefruit Sections"
Colored pencil drawing
by Lois DeWitt



DRAW WITH COLORED PENCILS
This is a great video lesson learning experience for anyone
wanting to explore drawing with colored pencils. You will enjoy doing any of these video lessons, although some of the lessons require some drawing skills. Watch the videos to see if you want to grow or augment your drawing skills first. If so, click on the "Learn Basic Drawing" button on the left first before proceeding with these video lessons.
You will have a list of materials for this course. If you wish, the materials can be purchased online through Amazon on this website.
The video lessons offered (free of course) are the following: "Colored Pencil Shading Exercise," "Draw A Leaf With Colored Pencils," "Color Layering," "Draw A Vase," "Draw A Vase of Flowers," "Draw A Flower," "Oil Pastel and Colored Pencil Technique,""How I Draw With Colored Pencils," "Water Color and Colored Pencil Fish Technique," and "Cornbread Still Life Colored Pencil Drawing," "A Coloring Book Page--Create Your Own."
Discover many ways of drawing with colored pencils through my videos lessons--and enjoy!


Click here to start your FREE Drawing With Colored Pencils lessons.