Learn Oil Painting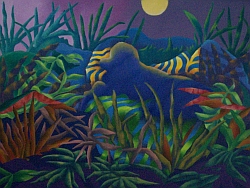 "Charley On Striped Cushions"
Oil painting
By Lois DeWitt



Beginning Oil Painting
If you have never painted before, learning to paint with oils will be a fun and rewarding experience! This series of six online art classes will introduce you to all the materials you will need and start you painting right away. Soon, you'll be on your way to creating beautiful paintings!
Lesson 1: Introduction to oil paint and the materials: Four skill exercises: mixing colors, blending colors, brushwork and washes.
Lesson 2: Painting simple shapes: Practice blending and shading colors to produce volume and contrast in simple geometric shapes.
Lesson 3: Still life: Compose two or three simple-shaped, common objects. My observation method will help you accurately paint colors, shapes and details.
Lesson 4: Landscape: Paint outside or from a photo. Here we will study composition, lighting effects, perspective and effective use of color and linear elements.
Lesson 5: Self-portrait: Using a mirror, paint your likeness. How you depict yourself (sad, happy, pensive, dreamy, etc.) may lead you to your personal style
Lesson 6: You've had a great learning journey! Now you know how to paint with oils! You're last project will be a painting a subject of your choice and expressing the techniques and skills you've learned apart from content. Have fun!
Click here to read my Ezine article, "Painting Light."


Click here to start the free Beginning Painting With Oils lessons.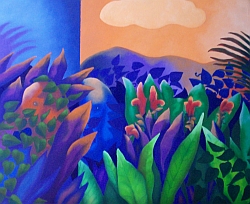 "My Two Poodles"
Oil painting
By Lois DeWitt
Intermediate Oil Painting
You've had some experience oil painting with oils, but want to know more about techniques and effects. Here, through six online art classes, you will hone your skills and examine your direction towards developing a personal style.
Lesson 1: So we are on the same page, the first class is a "refresher" on oil painting techniques of mixing colors, blending, shading, and brushwork.
Lesson 2: Still life: Arrange simple, common objects, including drapery and set up specific lighting. Work towards a realistic approach, looking closely at the objects, their local color, lighting and shading. Start considering a personal style--you ARE the artist!
Lesson 3: Black and white: Work from a photo of a landscape outside. This exercise is all about contrasts and composition, to help you see figure/ground relationships and establish a focal point and movement.
Lesson 4: Vibrant color: How to keep the colors fresh! This is important in oil painting! Your subject here is a room, an interior that you will fill with fresh color! Simplify the composition and stylize it towards the use of bright, contrasting colors.
Lesson 5: Muted color: Create a simple still life for your subject. The objects in the still life must be lit from one source, so that all the shadows are at one side. Work towards volume, light and shadow and soft passages of muted hues.
Lesson 6: By now you should have a sense of personal style. Through this online art class you are able to choose a personal way of working. To take you into advanced studies, choose a subject and paint the way you have the most fun! This will become your style.


Click here to start the free Intermediate Painting With Oils lessons.







"Charley At Sunset"
Oil painting
By Lois DeWitt
Advanced Oil Painting
You have completed several paintings in oils and want to strengthen your personal skills and style. These six online art classes are focused on your development of a personal direction and I will guide you towards that goal!
Lesson 1: Self-examination in the painting process is key to strengthening your own personal style and way of painting. Choose your own preferred subject matter (or abstraction, if that is your style) and create a painting using a technique you are most comfortable with.
Lesson 2: At this point in your development, I will suggest certain historical artwork examples that relate to your work. By looking at these, you will begin to see your work in the broader context of the art world. This is a chance to study the area of your style of working and learn from artists who share a similar technique or vision.
Lesson 3: Are you thinking of showing your work in a gallery? Do you have a gallery already? Visit galleries in your area and online to see what is on the market. If you are not interested in showing your work, this is a good time to learn from other artists.
Lesson 4: By now you have a body of work -- six to ten paintings that you think are going in the direction you would like. What influences you and encourages you to work? What is your dialog with yourself when you are oil painting? Your project here will be to take one prime element of an inspirational resource and expand it towards your development (I will show you how!)
Lesson 5: Looking closely at your progress here is important. We will scan everything from your materials, use of color, composition, design elements, strength of image and technique. In other words, is everything aligned towards one direction in your work? I will help you answer that question.
Lesson 6: From the body of your work you will choose one that you think is especially good-- in that it embodies closely your own personal style and direction. We will examine why you have chosen this particular piece and will have a dialog about your direction. Through these six online art classes, you will be ready to launch your work into the art world, continue developing your body of work, and strengthen your creative abilities!


Click here to start the free Advanced Oil Painting lessons.




Check out Easy Oil Painting Techniques website. Lots of good ideas to help you get going in oil painting.
Oil Painting Techniques | Learn How to Oil Paint - OilPaintingTechniquesLessons.com