PAINTING WITH OILS
Art Materials--What You Will Need
Oil Paints:  Here is a list of the basic oil colors you will need for the video lesson projects. There are many brands that offer good economical student quality oil colors. If possible, buy one tube of an expensive oil color so that you can compare the difference between premium and student quality paint. With this basic selection below you will be able to mix an almost endless variety of colors
2 oz. tube Cadmium Yellow
2 oz. tube Cobalt or Pthalo Blue
2 oz. tube Cadmium Red Medium
2 oz. tube Alizarin Crimson
2 oz. tube Permanent Green or Pthalo Green
2 oz. tube Burnt Sienna
2 oz. tube Raw Umber
7.6 oz. tube Titanium White
Other colors you may want to consider in the future are: Flesh, Mars Black, Ultramarine Blue, Cadmium Orange and Magenta.
Thinners: The difference between gum spirits turpentine and Turpenoid is that Turpenoid is odorless. Both work well as thinners. Regular turpentine is not recommended because it is not pure and will contaminate or change the colors of your painting over time.  Use gum spirits instead.
Have two turpentine/thinner containers, preferably glass jars that can be capped. One turpentine/thinner container will be used for cleaning your brushes, the other for diluting your oil colors when you paint. The color-diluting jar will be cleaner and not have the sediment of pigments that your brush-cleaning jar has and will not contaminate your brush with unwanted pigments.
I want to add that for my own purposes, and mainly because I use small synthetic brushes in many of my oil paintings, I find that cleaning the lbrushes by rubbing them on a bar of soap works great, and I think this method preserves the bristles  as well as cleans them.
Linseed oil is another thinner for your oil paints.  Use only the artists' quality linseed oil as regular linseed oil used for house painting, etc.  is not pure and can contaminate the colors in your oil painting over time.
8 oz. bottle of Turpinoid (Neutralthin) OR
8 oz. bottle of gum spirits turpentine
Two clean glass jars with screw on lids
A small bottle of artists' quality linseed oil
Brushes:  Brushes vary not only in size and shape but in the kind of mark they make depending on the bristles of the brush.  Hog bristle brushes are stiffer and coarser than synthetic bristle brushes (like Taklon.)  I recommend the synthetic brushes to start with as they deliver the paint smoothly and evenly on to the canvas.  If you can buy both kinds in the same sizes, you will be able to decide which you prefer working with and you will have  a good selection for future painting.  Sable brushes have very soft bristles (hair, actually.)  They work well for fine detail but are not necessary for beginning and intermediate video lesson projects here.
1/4" width flat synthetic bristle brush(small)
1/4" width flat hog bristle brush(small)

1/4" width round synthetic bristle brush (small)
1/4" width round hog bristle brush (small)

1/2" width flat synthetic bristle brush (medium)
1/2" width flat hog bristle brush (medium)

1/8" width round synthetic bristle brush(very small)
1/8" width round hog bristle brush(very small)

Canvases:  I recommend stretched canvases in these sizes (or approximate sizes.)  Canvas board may be OK for oil sketches or for practicing mixing colors, but the surface of canvas board is unresponsive and usually of poor quality. ( if you are not sure about what responsive/unresponsive painting feels like, paint on a canvas board then paint on a stretched canvas.  Dare to compare.)  Stretched canvases are fairly inexpensive these days, as they are imported.  They come pre-primed (canvas must be coated with a primer of some sort, usually gesso, before it can be painted on) and a variety of shapes and sizes.
Three 8" x 10" stretched canvases
Three 9"x 12" stretched canvases
Two 11" x 14" stretch canvases
Palette:  My choice is a disposal paper palette tablet. The usual image of an artist painting and holding a palette secured by their thumb and loaded with a lot of colors is well known and stereotypical.  For centuries this was the palette used by most artists. Semi-circular or elliptical in shape and with the proverbial thumb hole, wooden and plastic palettes like these are readily available. But I have found that cleaning  this kind of palette, is quite a chore involving scraping and wiping the surface with turpentine to redeem it for future painting.  I have found also that choosing to not clean that kind of palette and mixing colors over old dried color areas confusing, dulling the color I am trying to mix or conflicting with the color by being, indeed, another color.
Another convenience to a paper palette is that you can save your paints by folding the paper into quarters and putting it is the freezer. Yes!  To re-use your oil paints on your paper palette, allow the paints and minute or two to thaw. 
Dare to compare.  Try the traditional palette or try the paper palette.  You might find the thumb hole experience inspiring or welcome the convenience of using a paper page until it is full of dried color then ripping it off the tablet and throwing it away.
One paper or plastic palette-approximately 9" x 12" size OR  traditional wooden palette of your choice.
Sketch Book:  I recommend purchasing a sketch book for writing down and drawing ideas for oil paintings. Taking notes on your work, or from the instruction videos will be a good reference for your progress in painting.

One 9"x12" good quality sketch book
One drawing pencil, soft lead such as 2B
One Pink Pearl or White eraser
Clean up: Paper towels and a hand cleaner with make clean up easy.
Hand Cleaner (Gojo with pumice)
Paper Towels
You can conveniently purchase many of the materials online at Amazon.com. Just click on the picture of the product.
---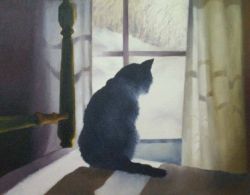 "Patti's Winter"
Oil painting by
Lois DeWitt 

The video below shows an excellent exercise for learning the properties of oil paint and how to make gradations of colors to create the appearance of light and dark.  Mastering gradation of light and dark with oils is an important skill for creating the appearance of illumination, volume  and dimension.  As human beings, we are hard-wired to perceive dark and light colors as light and shadow. Even in abstract paintings where the subject matter may be just the application of paint on the surface of the canvas as viewers we read dark and light and shadow and illuminate.
Oil paint is thick having dense pigment mixed with oil and other binders.  This makes oils perfect for producing gradations from dark to light colors or from one color to several other colors.  Oil paint dries much slower than acrylic paint and permits more time to create complex gradations and nuances of texture and color. On the other hand, I see that a lot of students prefer acrylics because they can paint over things easily and are not subject to waiting for the paint to dry.
I enjoy working with acrylics and oils although for the kind of painting I do, such as in the "Poodle and Plant" series, oils provides greater opportunities for me to explore juxtapositions of colors as well as light and shadow and smooth "seamless" gradations.
I believe each medium in art has its own talents and restrictions and learning those by practicing working with the medium over significant periods of time will permit the mastery of skill working with that medium.
The video below shows how I painted my "Poodle And Plant" series. I like using vibrant colors and Charley, of course, is one of my favorite subjects.
I was inspired to do this painting after I took some photos of Charley and some of my potted plants.I cut out a photo of Charley and pasted on to a photo of my plant.  The dog shape and the leaf shapes made a lyrical, almost comical combination of an animal in nature except this was all  reduced to domesticity--my placid poodle guy and my  potted plant, the subjects of my quiet, tranquil household.
Here in this video I used a collage I had made as the subject of my oil painting. If you like working from a photo or picture, try this method.  It teaches observation as well as painting skills.
This is a good beginner lesson using a small canvas and a small seashell as the subject.
What to paint?  My search for subject matter...
In doing my paintings for the Carolina Beach State Park Visitor's Center,(where I work on week ends)  I used the park as my subject matter, taking videos and photos of subjects that I wanted to consider for painting. These two videos show my search for subject matter for my paintings.
---
My oil paintings at the Carolina Beach Visitor's Center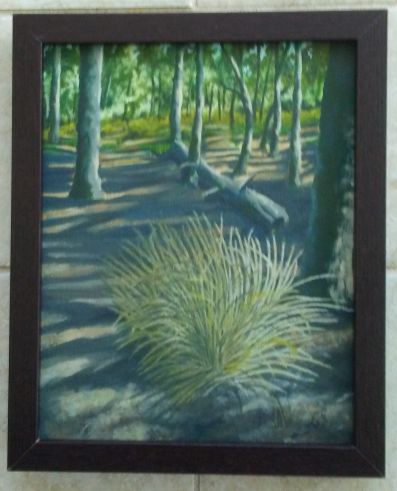 "Wiregrass"
Oil painting by Lois DeWitt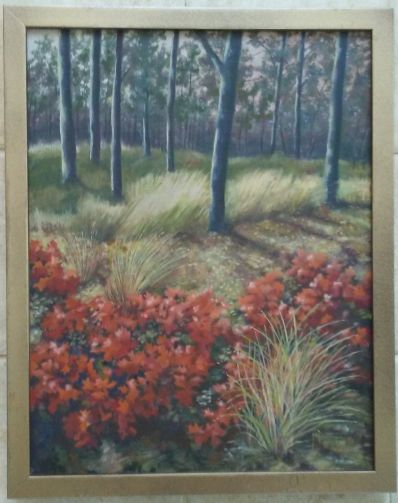 "Autumn On The Campground Trail"
Oil painting by Lois DeWitt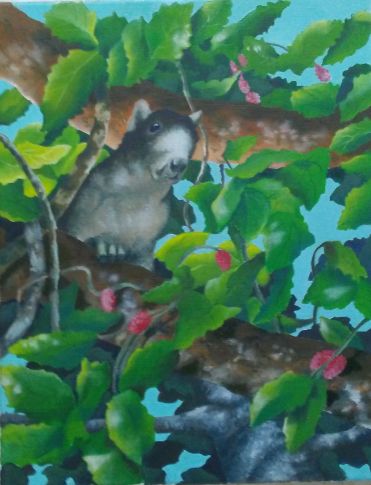 "Fox Squirrel"
Oil painting by Lois DeWitt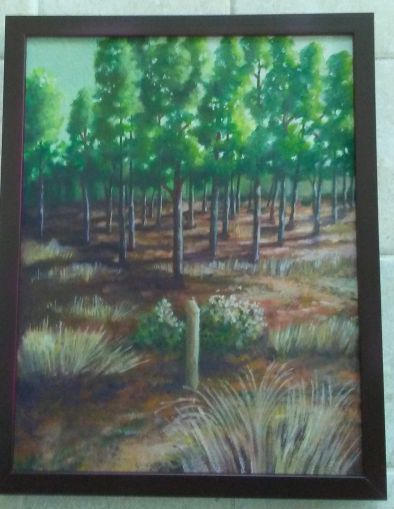 "Sugarloaf Trail Marker"
Oil painting by Lois DeWitt
I appreciate your comments, questions and suggestions! Please contact me by filling out the form below. And, thank you!