Learn Oil Painting
"Charley Under The Moon"
Oil painting by
Lois DeWitt
ABOUT  MY OIL PAINTING LESSONS....
First, I discuss the materials you will need to begin oil painting: this includes brushes, canvases, oil paint, thinners, and other supplies. Knowing what to purchase and why is the first step to learning.  As in all of my other lessons, acquainting students with the physical art supplies and their characteristics is the primary goal to learning.  This knowledge, simple as it sounds, give students confidence to begin.  Secondly, exercises that teach students how to physically manipulate the materials is key to the learning process.  With more confidence through these kinds of exercises, students are easily ready to go on to the beginning oil painting lessons of color mixing, blending and gradations, depicting light and shadow and painting textures and detail.

To help you start oil painting, I have created several oil painting project lesson videos showing the various skills and techniques I use in teaching Beginning Oil Painting to students.  These are basically for students who have never done oil painting before or have painted a little and want to learn more about the process.  I also have created some videos that show the skills and techniques I use in my own work to give you an idea of how a student can set out in their own direction having learned some basic oil painting skills.  Learning in that way is important to creative development. 
Although  it is a good to learn how one artist works and adopt their skills by copying, I have always encouraged students to learn with the idea that all of their learning should be directed to finding a personal style.  When they can use what they have learned to delve deeper into themselves and to find what truly they want to express, they can use the full capacity of creativity.
Charley, my Standard poodle, is the subject of many oil paintings I have done.  I have, through my paintings, transported him to magical sub tropical worlds where he remains, however, complacent and thoughtful, as usual!
I have written an Ezine article about oil painting that I think you will find interesting.  Depicting light and shadow are important in painting, probably the most important skill other than drawing skills that you will need to produce "realistic" paintings, that is, painting that are about identifiable subjects, like still life, portraits, and landscapes.  Light and shadow can also be depicted in abstract painting, usually through light and dark colors.
Click here to read my Ezine article, "Painting Light."


Click here to go to my FREE Beginning Oil Painting video project lessons.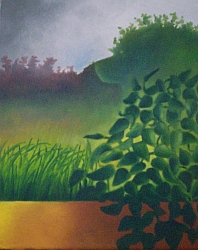 "Charley In The Woods"
Oil painting by
Lois DeWitt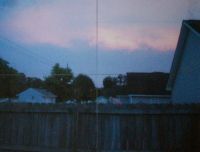 "Backyard Sunset"
Oil painting by
Lois DeWitt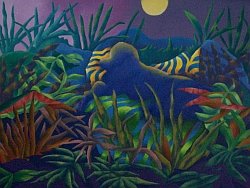 "Charley On Striped Cushions"
Oil painting by
Lois DeWitt
"Sam's Birthday"
Oil painting by
Lois DeWitt
"Cat And Sunset"
Oil painting by
Lois DeWitt