Learn Collage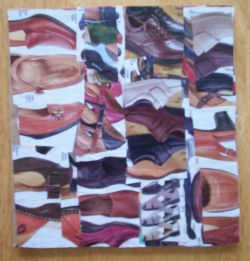 "Shoe Collage"
Collage by Lois DeWitt
The Many Faces Of Collage
There are so many different ways of creating a collage. Collage is an art form that employs just about any object you can imagine--magazine pictures, photos, lace, shells, wood, tile, mirrors, wallpaper, wire, you name it!
I used pictures from a shoe catalog to make this collage. Shoe pictures repeating a pattern over and over again make the composition fun and turn it into something else--stacked images creating strata of similar shapes and color, but are they still shoes or have they become a different design?
What is collage?
Collage is a creative method of collecting a variety of materials and exploring how they might be put together into a composition.
The ultimate goal of collage is to assemble a collection of objects and materials and transform them into a new visual form.
The materials used in collage can range from found papers, scraps of fabric, wood, plastic, grasses and seeds, buttons, beads, stamps, etc. The range of materials and the possibilities of combination are limitless!
Watch my video "Introduction To Collage." I explain the six collage lessons course and what you can expect to learn.
And if you're ready for Collage, just go down to the bottom of this page and click on the link to your FREE Collage Lessons!

Today, collage is considered an established art form, and it often evokes a provocative and sometimes humorous reaction as common, everyday objects are magically transformed and given new meaning.
The skills acquired through making a collage are both visual and physical. They require us to re-see the context of the many common objects around us and create new combinations of these common objects towards unique art forms. The assembling of a collage can be a challenge!
Collage requires minimal art supplies--basically scissors, glue and cardboard or mat board are all you need (plus, what you will have collected in the way of found materials!)
Are you ready to try collage? If so, click on the link below to begin!