Learn Basic Drawing
BASIC DRAWING
I have created many Basic Drawing videos from methods I have developed from over 40 years of teaching beginning and advanced students how to draw.
Learning drawing skills and techniques is accomplished through exercises that acquaint students with drawing materials first, so that confidence is gained early on and the student is ready for the visual projects.
Perhaps you are feeling cautious about drawing. Maybe you've never drawn before, or, you did drawings long ago but something or some one discouraged you and you quit.
You may think that drawing is just for those gifted with creative talent. No! Everyone and anyone can learn how to draw! As an instructor for over 40 years, I have proven this with many successful, accomplished drawing students! I have made several YouTube videos demonstrating the skills and techniques you'll need for Basic Drawing.
Watch my video of the introductory basic drawing lecture that helps and encourages students like you to learn how to draw!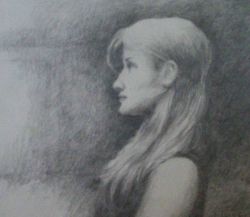 "Samantha"
Pencil drawing
by Lois DeWitt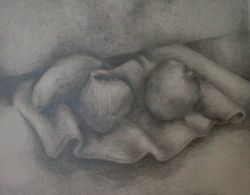 "Onion Still Life"
Pencil drawing
By Lois DeWitt

Click here to start the FREE Basic Drawing Video Lessons.