Learn Basic Drawing
Six FREE easy and fun Basic Drawing lessons!
The six Basic Drawing Lessons I have created have proven successful for beginning students over the past 40 years I have been an art instructor.
I have written step by step, information-rich lessons that are easy to understand and fun to do!
Learning drawing skills and techniques is accomplished through exercises that acquaint students with drawing materials first, so that confidence is gained early on and the student is ready for the visual projects.
Perhaps you are feeling cautious about drawing. Maybe you've never drawn before, or, you did drawings long ago but something or some one discouraged you and you quit.
You may think that drawing is just for those gifted with creative talent. No! Everyone and anyone can learn how to draw! As an instructor for over 40 years, I have proven this with many successful, accomplished drawing students! I have made several YouTube videos demonstrating the skills and techniques you'll need for Basic Drawing.
Watch my video of the introductory basic drawing lecture that helps and encourages students like you to learn how to draw!
Basic Drawing Lecture
Here's the Basic Drawing Course Outline
The first Basic Drawing lesson will introduce you to the variety of art materials you will be using in the lessons, where to purchase them and how to purchase quality drawing materials without spending a lot of money.
Doodling! Then, loosen up and get your creative juices flowing with a beginning exercise in doodling (yes, doodling!) You'll be surprised at what you can do and how this exercise will help you develop your basic drawing skills! I've had much success with doodling exercises with beginning students.
"Samantha"
Pencil drawing
by Lois DeWitt


Shading! Everything we see is illuminated in some way by light. The skill of shading to produce light and shadow also creates volume. Learn how to shade, starting with easy, step-by-step exercises that develop your shading skills. Then draw a portrait, a landscape, a still life, whatever you want, with confidence.


Draw What You See! Learn how to draw what you see using the simple and easy pencil gauge method. And, in the lessons, you will be able to learn more about drawing what you see through my videos on other time-tested techniques.
Line, tone and texture! Through six Basic Drawing lessons, explore line, tone, texture and shading with pencil and pen and ink through my skill and technique exercises. Explore drawing a variety of subjects including still life, self-portrait and landscape.
Also, in the six lessons, basic drawing principles of composition, form, line quality and light and shade are covered. At the end of this series of six Basic Drawing classes, you will be able to draw easily and skillfully!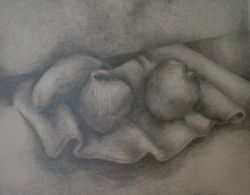 "Onion Still Life"
Pencil drawing
By Lois DeWitt

Click here to start the FREE Basic Drawing Lessons.


Here is another great site where you can learn how to draw.