Learn Water Colors
"Ontario"
Water color by Lois DeWitt
Water Color Materials: What You Will Need
A set of at least 12 good quality tube water colors.
An assortment of brushes, preferably synthetic bristles in small, medium and large rounds, flats and chisel point shapes.
Cold Press Watercolor Paper--140 lb. tablet of at least 50 sheets, 
size- 9" x 12"
Water color mixing tray- (approximately 8" x 11") plastic or metal, with  recessed pans for color mixing.
A plastic water container
Paper towels
Masking fluid
Small natural sponge assortment
Kosher salt
Pencil
Many of your water color materials can be easily purchased online by clicking on the Amazon product logos!


About water color materials
 Working with a certain size brush and learning what it can deliver on the paper is important. A large assortment of good quality brushes will provide more painting options. Synthetic bristle brushes come in inexpensive assortments, or, you can afford it, purchase the various sizes individually.  Here is a description of your ideal selection of brushes:
Your LARGE brushes will be about three-quarters to one inch across and a flat and round shape. These will be for broad washes and laying down large areas of color.
Your MEDIUM brushes will be a flat, chisel point brush and round and approximately one quarter inches in width. These brushes can make broad, sweeping strokes, or, on edge, thin, expressive lines.
Your SMALL brushes will be one sixteenth to one eighth inches in width and will be used for detailing fine lines and small images.
There are many good quality water color tube sets available. Do not purchase dried pan watercolors as the quality is not good. Artists' or good quality student grade tube water colors are best and will give you the dense pigment color you will need for your work. Choose a set of at least twelve colors. More is better if you can afford it.
A plastic or metal palette (mixing tray )with many large and small sections for your colors and for color mixing. 8" x 11."
Choose 140 pound cold press water color paper in a tablet, block or single sheet form (tablets are the most economical) preferably 9" x 12" size.
You will find this kind of paper to be rather expensive, but it is well worth the purchase because it is the best for receiving the brushwork and water color impressions that you will be making. Do not use sketch book paper, copy paper or water color paper of less pound specifications. Your results will be depressing because you will not be able to do the following water color painting exercises correctly'
Visualizing is an important water color painting skill. For the beginning student doing a visualizing exercise offers learning how water colors work without being intimidated by looking at subject matter and trying to copy it.
Another exercise using stencils acquaints beginning students with the properties of water color, color mixing and application without being encumbered by looking at a subject..
Experimenting with water color shapes teaches expressive brushwork dynamics and color mixing.
Masking fluid or wax resist, as it is sometimes called, is a good way to keep some areas unpainted and ready for another step-either painting the area in or leaving it white. This is a simple and easy technique that produces awesome results!
Working With subject matter requires looking at an object and putting it down on paper. I recommend clicking on the left menu button "Learn Basic Drawing" to augment your drawing skills and give drawing confidence before proceeding with the following subject matter videos.
Explore various water color skills and techniques using imaginative images like trees!
The "On The Street" water color painting below was done by making brushwork "people" shapes and and then drawing into them with a pencil. You can do this with any shape: animals, people, patterns, circle, squares, triangles, etc. Drawing into the painted shapes when they are dry can be done with pencil or colored pencil.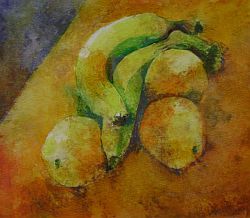 "Golden Bananas"
Water color painting
By Lois DeWitt


LEFT BRAIN/ RIGHT BRAIN
You may,in your creative endeavors, get stalled (painter's block.) All of a sudden you can't work and the voice in your head is telling you that what you are doing is dumb and you should sweep the porch and wash the car instead. Many a good, creative, inspirational experience is lost this way.
There is a seminal book on this subject of shooting ourselves in the foot while we are trying to draw, paint or create in any way. It is by Betty Edwards and it is entitled, "Drawing On The Right Side Of Your Brain."
If you experience this conversation in your head, you must get rid of it. Don't listen to it. It is not the proper instruction. You need to simply paint and watch. Be humble. Give yourself up to your brush and colors! Allow the creative part of your mind (the right brain) to guide you.
There is really no right and wrong in creating—only how close you are going to where you want to go and what makes you happy and feel good. As your skills develop, be able to leave them if something you do excites you.
Your comments are important to me and help me make my website the place to go for good free art instruction!