Learn Printmaking
Learning printmaking teaches us how to see in reverse. When the printing plate is inked and paper pressed down on it the image that is transferred is the reverse of what is on the plate.  Many times the image result is a happy surprise or the image can look awkward or unbalanced because we tend to read and see things from left to right. In the transfer of the image (printing) the "left" of the image becomes the "right" and the "right" becomes the "left." Adjustments and changes have to be made to the printing plate to correct the unbalance and awkwardness.
Mono-printing is a one-time printing method--only one print is made from the print source which can be a painting on a smooth surface or a plate made from material like cardboard, mat board, plastic or metal. When the painting is completed, paper is pressed down on the painted surface and pulled away. Again, the same surprise factor is there and it can be either awkward/unbalanced or a joyful result. Mono-print is a vigorous, fun activity, especially for children. There is no carving into material (as there is with wood block or linoleum block) so the process is much easier for a child. The painting can be done on any smooth surface and produces exciting and often impressive results.
Multi-printing refers to a printing a plate that has a more permanent surface which allows repeated inking or painting  to produce an image over and over.
Collagraph refers to a printing plate that is created by gluing down various textural materials like sandpaper, fabric, seeds, string, etc. When the glue is dry, the plate is sprayed or painted with shellac, varnish or polyurethane resin.  When dry, this plate can be inked or painted with many colors. Pressing paper down on its surface records the textures so that a detailed imprint can be produced. Good quality sketch book paper or printing paper like rice paper holds up better for this process than copy paper.
Printmaking Supplies
A set of of acrylic paints or printing inks.
A paper plate or palette
A synthetic or bristle brush
A smooth surface like a plate, glass or plexiglass
Paper towels
Sketch book paper, printing paper like rice paper or copy paper.
A plastic water container
Card board or mat board
A collection of materials for the collagraph plate: sandpaper, seeds, beans, lace, fabric, nylon or metal. screen, straws, grasses, leaves, sand, cardboard pieces, etc.
Elmer's glue
Fabric (muslin or sheeting is recommended)
An iron
Most of these materials can be easily purchased online by clicking on the Amazon logos below:
---
Lesson One: Make And  Print A Monoprint
Lesson Two: Make And Print A Collagraph Plate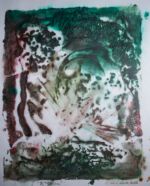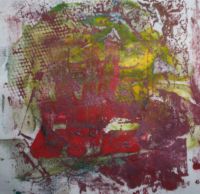 Collagraph print
By Lois DeWitt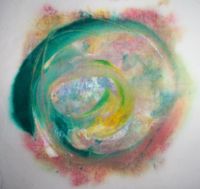 Collagraph print
By Lois DeWitt
---
Get Supplies From Amazon!
---
Books on printing!
---
Lesson Three: Print Fabric 

---
Lesson Four: Print Fabric From A Collagraph Plate

Printed Fabric Collage
By Lois DeWitt
Printed Fabric Collage
By Lois DeWitt