Artful Gardening Update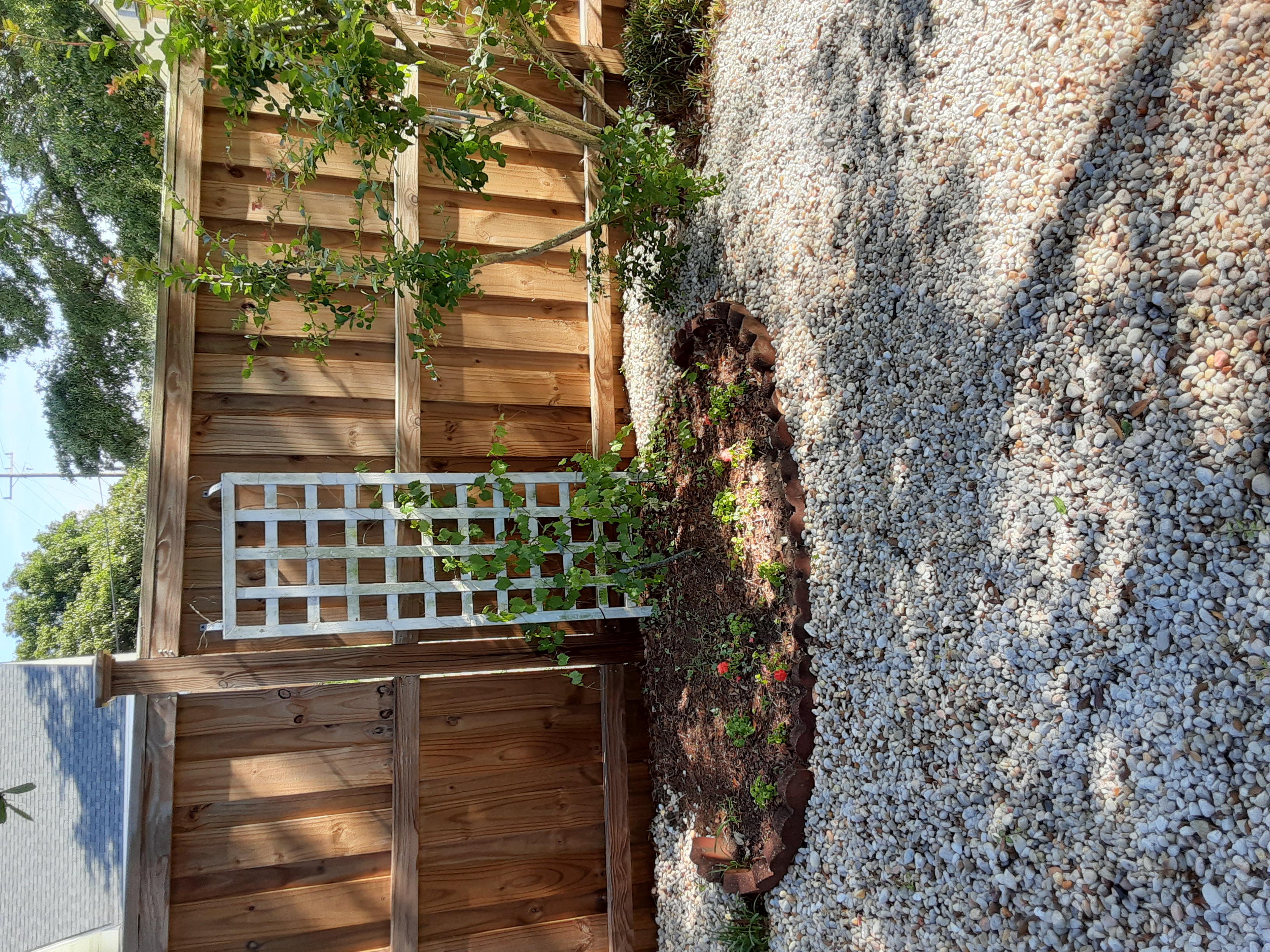 Update 2022
I had gravel put in where grass would not grow anymore because of the shade. My trellis was moved to the backyard to give my Muscadine Grape something to climb on.
The stepping stones outlined by the gravel was sure pretty.
Red mulch added to the plant areas was a nice contrast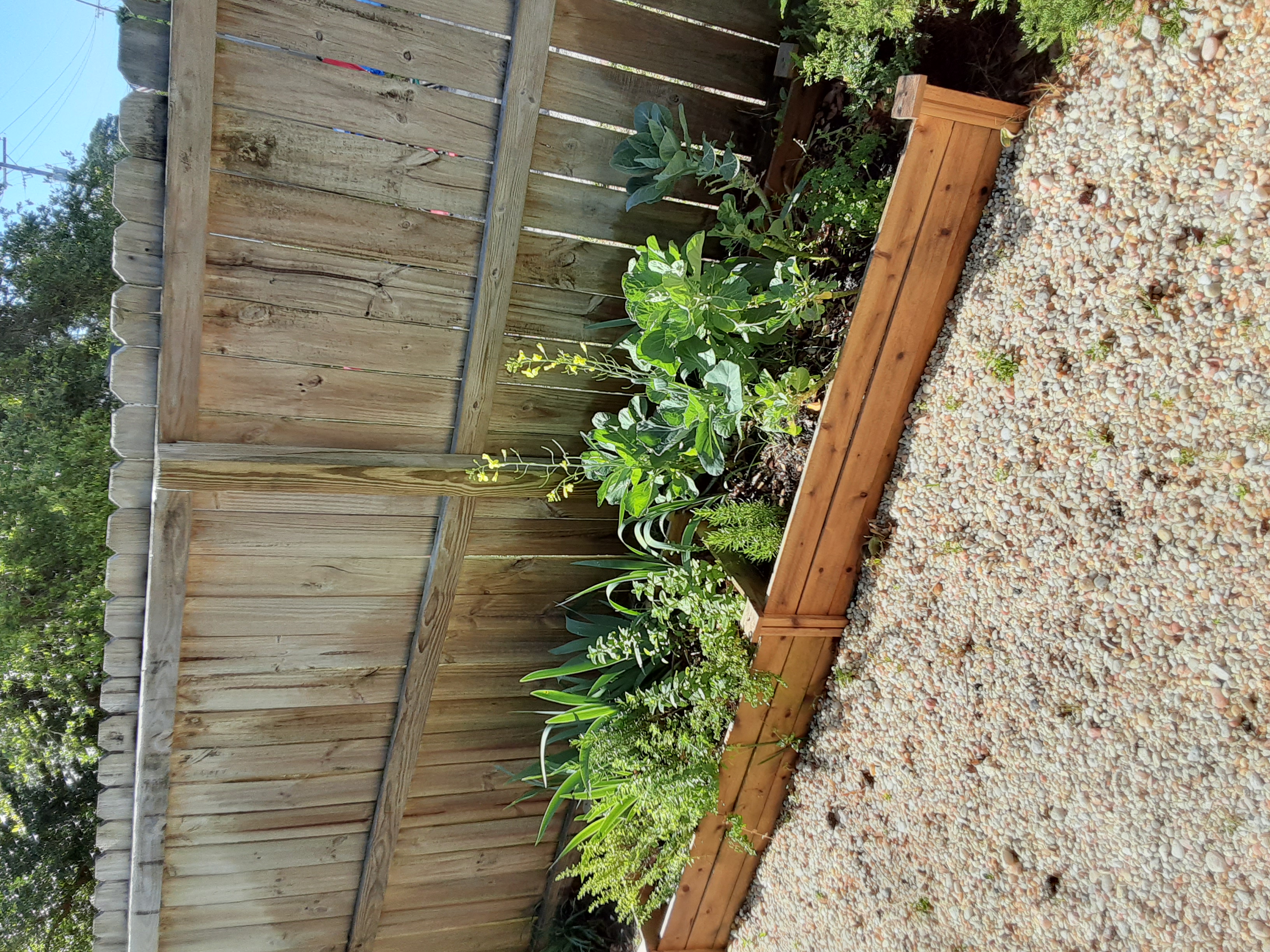 No more backyard garden.  At age 79 I need something more accessible.  Ordered a cedar raised garden online..  It was easy to put together.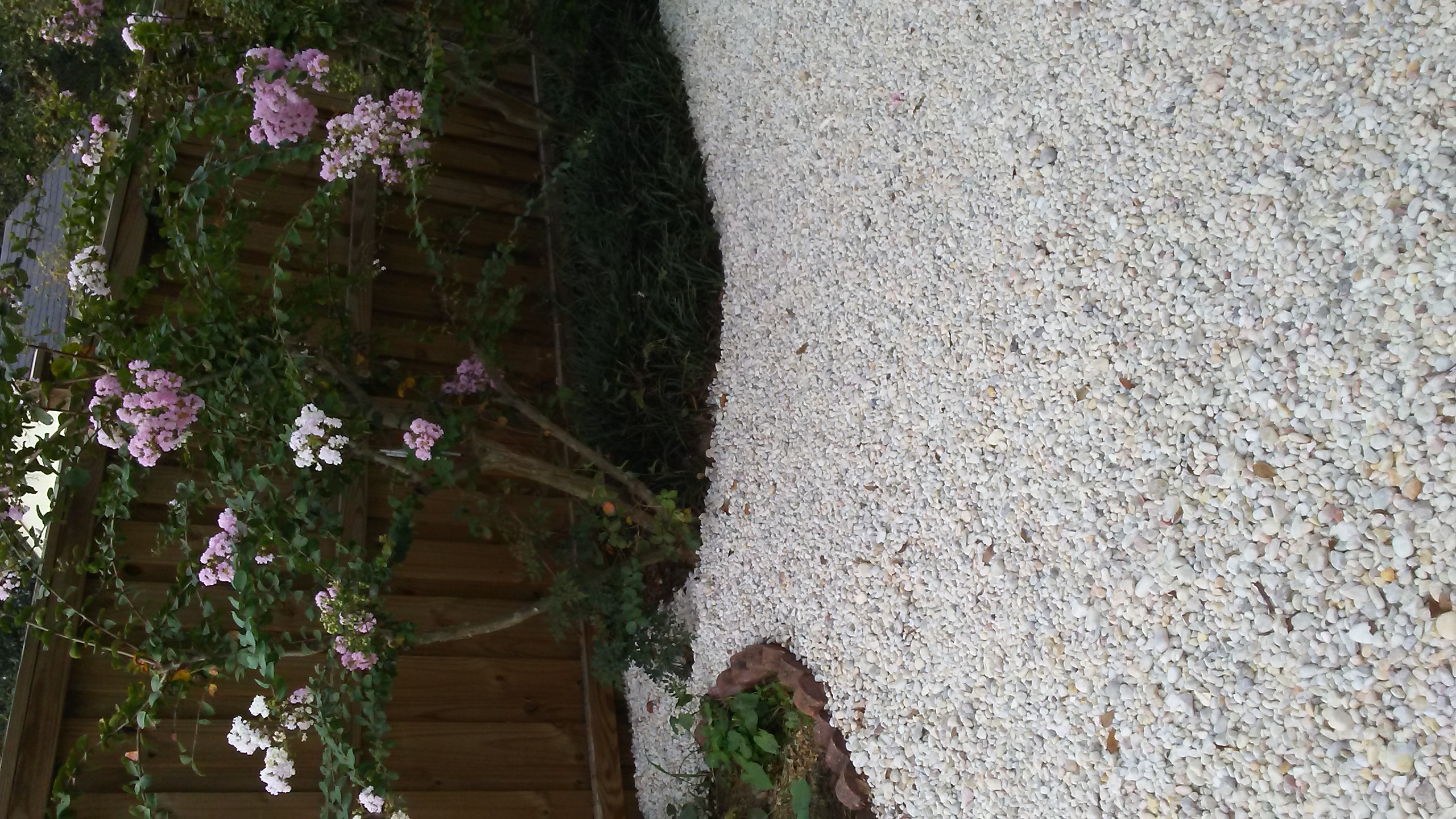 Terry did a great job putting the gravel down.  It took many loads by wheelbarrow!
I decided to put two raised gardens on the southside of my house where there is plenty of sun for hours and hours in the summer.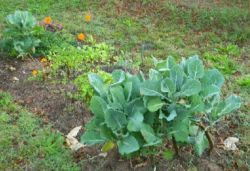 2017 UPDATE
March 12:
Challenges!!
The collards and kale I planted last summer were decimated by worms in July. I pruned the plants, leaving just the stalks. The next day, while twirling around my kitchen to old disco CD music ,I  twisted the wrong way and broke my ankle in several places.  Thanks to 911, I was quickly dispatched to the Cape Fear ER and subsequently to an orthopedic facility where a couple days later I had surgery and a nice colorful cast on my foot.
Months passed as I journeyed from cast, to wheelchair, to another cast, to a walker and finally a cane. In October I was depressed looking out at my weedy, untrimmed yard.  I started a series of paintings and writings which I entitled "The Broken Ankle Journal."  Painting and writing was a way for me to steer out of that depression and it worked!
Click here to see my "Broken Ankle Journal"
Meanwhile although my poor neglected garden was full of weeds, the collards and kale had, with the cool weather, revived and were growing big, beautiful leaves.  They continued growing all through the winter, which they often do here in Zone 8, through many frosts and even hurricane Matthew. Yesterday I harvested two huge bags of kale and collards, some of which I will freeze and some of which I will share with friends.
And I am now walking "canelessly" with Charley on the trails of Carolina Beach State Park!  
Even before I broke my ankle, I knew I would have to change a few things upon getting older.  My old Yard Machine lawn mower died and I bought a used Troy-Bilt self-propelled mower to make it easier to mow.  Now I was no longer pushing a mower, I was being pulled around my yard by a beast that was much faster than I was.  The Troy-Bilt went back to the mower shop and, at their suggestion, I purchased my first, 40 volt lithium battery driven electric mower which is light enough for me to lift into my shed.  No more gas fumes, oil topping off, draining in the fall and wrenching my shoulder try to start the engine.
I love my electric mower, a Sun Joe, which is powerful, quiet, easy to push and easy to start.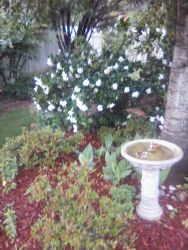 2016 UPDATE
It was a beautiful spring here in coastal North Carolina. Plenty of rain (the backyard flooded again, but not as bad as before.)
The gardenia bush drooped with many blossoms and the fragrance took my breath away when I was sitting on the patio.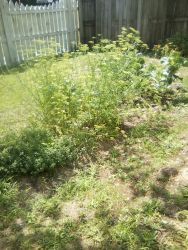 I had collards and kale again all winter long. It is interesting that they freeze, their leaves become crisp with frost. Then they thaw during the day and recover miraculously, ready to be harvested at my whim.
It has not always been easy to grow parsley, but last year's parsley just didn't quit. In spring it went to seed and I finally had to chop much of it down, leaving some stalks to re-seed in the garden.
I harvest the parsley, rinse it well, pat it dry and pack it into plastic containers in the freezer. It keeps well, for months and when I want, I simply grab a handful and sprinkle it on whatever I am cooking. Great stuff!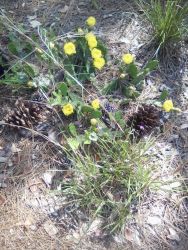 I took this picture with my phone when walking Charley in Carolina Beach State Park. There are certain spots in the woods where prickly pears grow and in the spring they bloom with lovely yellow flowers.
They are nice to see, but their terrible spines can go through the sole of a sneaker and I have had a few occasions of pulling them from Charley's feet! Since the last episode, we are careful and Charley is mainly on the leash now, mainly because I am visually challenged and his eyesight is not very good either!



This is one of the last gardenias, they don't last but a few days on the bush or in a vase. But they are such a pleasure. Their white petals glows like stars and dusk and when the wind is in the right direction, their fragrance comes into the house through the screens.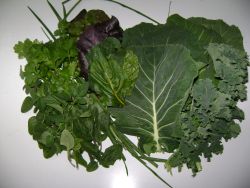 January 2015 Update...
Living in coastal North Carolina, it is no unusual for my little garden to provide Swiss chard, collards and kale all winter long.
In January, despite the temperature dropping to 22 degrees F. at night and frequently not climbing past 32 during the day, I have been impressed with the fortitude of my little plants.
And I have proudly plucked little chard, collard and kale leaves to cook all winter, dining on these treats even during ice storms, sleet and some snow.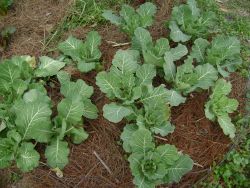 It is probably Zone 8 smugness radiating from a person who was born and raised in Minnesota. As a kid, winters were cold but that is what we expected. Coming in from sliding (sledding) fingers were often burning with close to frost bite.
Now that I am 72, I appreciate, as many my age do, the ability to walk year round in Carolina Beach State Park with my noble Charley.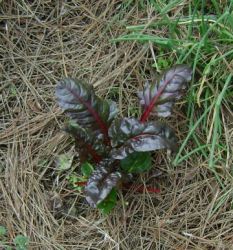 Who would think that these varnished red leaves would go through a punishing winter and be put into salads and stirred with greens for winter meals? Want to see what I did with them? Go to my Artful Cooking button and click on it!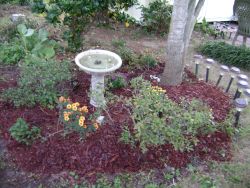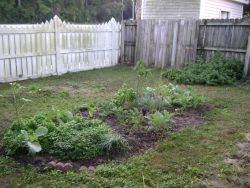 October 2014 Update...
When I decided to cut back my work hours in August I finally was able to do much needed yard work, including pruning, raking, applying mulch, and planting. My poor garden was full of weeds, way to much oregano, struggling Okra and sage and thyme fading away...what a sight! I remembered the lovely vegetable garden I'd had years ago.... By September, the back yard was much more civilized. The moonflowers I'd planted from seeds were finally flowering and I made acquaintance with some interesting critters: two golden orb spiders (also called banana spiders here in NC) and a little round red toad that turned out to be a small-mouth toad usually found in marshy areas, but apparently had decided to take up residence under my shed.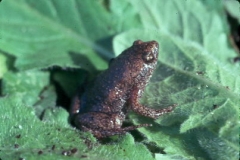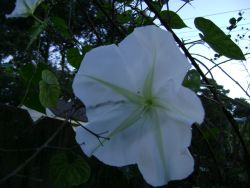 As the weather has been mild, except for a few cold nights, the moon flowers are still blooming! When the flowers quit blooming, they fold up into a large pod, that, I suspect, has seeds in it. If that is true, I will save the seeds for next year and plant moon flowers again.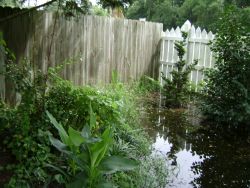 Heavy rains in October caused serious flooding, the second time this has happened in the eight years I've lived here. I'm not sure if the flooding caused the death of one of my Crepe Myrtles, but eventually I had to have it cut down and the stump ground. The other Crepe Myrtle is a live and well.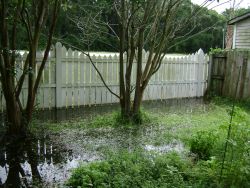 All in all, I am happy to report that watering with a Miracle-Gro feeder has done wonders for the little vegetable garden--which now consists of collards, Swiss chard, kale, chives, oregano (of course!) and basil. And, curiously, the tomatoes given to me by a friend this spring are blooming and showing little tomatoes, although I had completely written them off as casualties in August after the usually onslaught of stink bugs, horn worms and grasshoppers.
I hope my little Zone 8 garden will provide me with collards, kale and Swiss chard all winter. View my video on how I made a quiche from the kale in my garden.
Watch my recent video on making a Kale Quiche...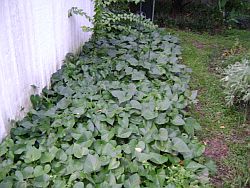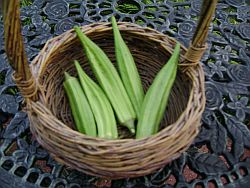 October 2013 Update...
Sweet potato vines had to be cut back so I could mow along the side of the garden! They didn't seem to mind too much, and now that it is almost November, they seemed to have stopped growing.
The collards in the garden were completely decimated again two nights ago. The collards I have growing in pots in the front of the house are doing well, and I have already harvested some leaves (small, the size that I like!)
What else is doing well? Okra!
Click here to view my video tour of my backyard, including the garden!
What will I do with all of the sweet potatoes I will harvest this Fall? Sweet potato fries are a favorite!
Click here to view my video on how to make "Sweet Potato Fries" in the toaster oven.
September 2013 Update..
It has been a lush summer. Lots of hot weather with much rain. Everything is very green, flowers and weeds alike abound.
The cannas are huge, the birdbath is almost hidden by cannas and a "Goliath" tomato plant which has yielded one luscious tomato. Some varmint (I suspect rat or squirrel) has taken all the rest, plucking the small, green tomatoes off the vine expertly. I tried enclosing some in zip lock bags, only to discover the bags on the ground the following day and the tomatoes gone, as usual. So much for that idea.
It was nice for Swiss Chard all summer, although something is eating the weakened, older plants now. I will just let them go.... It was terrible for my collards. The last remaining plants were devoured down to their stems, and every time new leaves were budding, those were trimmed down, too.
Stink bugs are a continuing challenge on the two miniature tomato plants I have in my garden. Although there are a lot of tomatoes coming, and it seems I am spraying almost daily with an organic insecticide, they persist and I am harvesting the punctured, spotty and nasty-looking things that I had hoped for my salads.
Oregano, of course, is a live and well. I've had to pull quite a bit of it out to allow room for the eggplant, Swiss chard and basil. Speaking of basil, with the hot weather it does very well and I have been drying it to preserve it. I find this quite successful. I can pick a lot of basil, place it on cookie sheets and over three or four days, in an air-conditioned atmosphere in my bedroom, it dries nicely. Then I run those leaves through my coffee mill and presto! lovely, aromatic basil that will be a nice addition for tomato sauces, salads, pestos and pastas.
The sweet potatoes have taken over again! Of course they do well, because they are growing on my compost area. After all, they WERE compost that decided to grow. I expect, with the first frost (October or November) I will harvest, again, lovely fuscia-colored sweet potatoes!
June 2013 Update...
Everything is doing well. There has been a lot of rain and sun and everything looks happy.
I had the patio pressure washed prior to my daughter's visit and it was lovely grilling veggies there!
The vines are back!! No doubt growing from the ends of sweet potatoes I've cut and dug into the compost pile. Also some potato plants. That should be interesting!
Tomatoes are doing well, little collards that I planted several weeks ago from seeds I'd saved from my own plants. I've taken some more oregano out and some parsley, which is now bolting.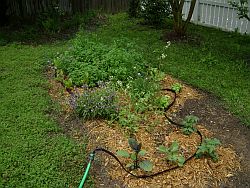 New plantings!
A little Japanese eggplant, basil, and two patio tomatoes. I know, I said I was never going to plant tomatoes again, but, well, they are so tempting, what with the warmer weather coming and the dream of those sweet red orbs sliced into a salad.
Of course the oregano and parsley are going nuts and the Swiss chard, Buttercrunch lettuce and Cilantro that I planted earlier don't seem mind at all. I'm wondering if the herbs will protect these veggies from bugs. I'm hoping the Cypress mulch I put down will be protective as well as preserve the moisture around my plantings.
So what is so artful about sticking stuff in the ground? I find it a peaceful, meditative endeavor much as my painting experience is. And the reward of seeing things grow, just like the development of a painting, resonates in some deep, dark, hard-wired part of my brain.
All said, speaking for the artistic community, the creative mind must create, must grow and explore. All of this in painting and gardening is aligned toward self-enrichment.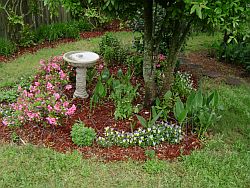 Birdbath!
It wasn't easy finding a birdbath, although there are many online. I wanted a resin birdbath, light enough for me to put in the shed when the weather gets cold here.
I also wanted a certain traditional design, that reminded me the birdbath that was in our back yard in Minneapolis, centuries ago. When it arrived, I was ecstatic! Unpacked, put together and placed, I became concerned about it being to light in weight to stand against the gusts of coastal wind that come with summer weather. Some birdbath bases can be filled with sand. This one is closed at the bottom, but I think I can drill a hole to access the interior and fill it. Or, some rebar or a short piece of pvc, hammered down into the ground, can be an anchor for the base.
No birds yet, I hope they will come when the weather gets hot.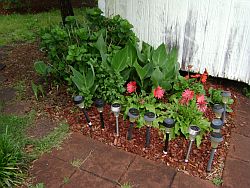 Gerbera Daisies!
Gerbera daisies are my choice this season. They are perennials and be seeded by dead heading the flowers and strewing them around the mature plants. Also, they're great for my drawing class! The red, orange, yellow blooms with their many sturdy petals make great subject matter. Depending on the style the student prefers, each petal can be drawn or they can become an abstract design.
That said, here are three videos I did exploring drawing this wonderful little flower. One is for pencil drawing, one is for colored pencil drawing and one is for conte crayon drawing. Have a look!
Draw a flower with colored pencil.
Draw a flower with conte crayon.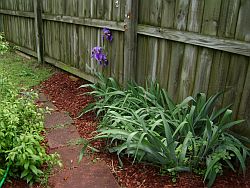 Oh, my Irises!
Here they come! When I bought this house six years ago, the previous owner told me that she had planted Iris by the fence. Indeed, the leaves spoke Iris, but now flowers the following spring. Year two, five Iris, year three two, year four none, year five, six and this year I will have what looks like seven or eight. There would be more, but Charley, in his pursuit of lizards or mice, destroyed the first buds a week ago. That is when I decided to put up the little fence, which he honors.
I have not been kind to my Iris. I don't do anything to them. I don't water them when its dry, I don't weed them, I don't mulch them. I think they come from bulbs, an energy source that can outstrip my endeavors--yet, I don't know very much about bulbs, and in my ignorance, I have probably neglected them.
Nevertheless, with this rainy spring, they have bloomed beautifully and inspired me to do a painting or Irises. Today, I walked back to my little garden and bent to sniff the wonderful aroma. They are truly awesome in scent, shape and color!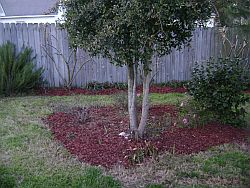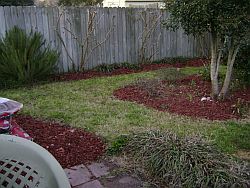 Red Mulch
I needed to put in mulch again, but what color? I thought red would be over the top for me, but then my neighbor did her front yard and I thought, what a nice color! So I bought six bags of red mulch and went to work on my beds. What a difference! It's not really very green here in North Carolina in March, but the visual effects were dazzling. When things turn really green, it will be quite lovely. I'm a red mulch fan!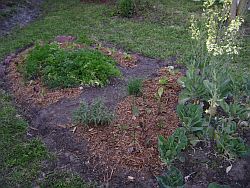 Cold weather in the 30's at night and high winds in 40 MPH gusts made my buy a bag of cypress mulch and bolster my little sets of Swiss chard, arugula and butter crunch lettuce. They weathered well, their tender leaves protected by the added support.
When I came out this morning, all was well! Whew! I hope for all these greens growing well in the hot summer!


AFTER
Attack!
I pulled out a lot of weeds, parsley and oregano to make room for my new sets: butter crunch lettuce, Swiss chard and arugula, all salad favorites of mine.
It took several hours to clear the little patch and I left the clots of weeds, etc. on the side to dry so the next day I could shake them out and put them into trash bags. The weight is so much lighter then and a good portion of soil is saved, to be raked back into the garden or into the grass around the garden.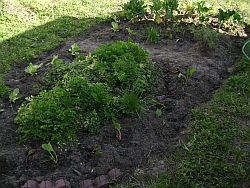 Another view of my endeavors today. Just a little garden, but big enough for me. At my age (70) I move slowly and being a bit visually impaired, I'm cautious as well.
But the rewards are many: my achy joints accepted, I love to see what I have done and I will enjoy the growth of these new sets into the summer and beyond. Here in North Carolina, many of these plantings will grow into October.
It is so nice to have greens from your own garden! Just picked, the taste is rich and vibrant, the texture strong and crisp. And my summer dinner guests that I will invite for an occasional barbeque, will enjoy a walk around my little yard, view my garden and partake of a tasty salad fresh from this small plot!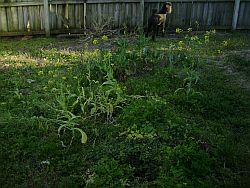 BEFORE
It's March and the winds are blowing warmer here in coastal North Carolina.
My commitment to making my front and back yards more picturesque have made me do hours of digging, shaping beds and pruning plants.
But my little garden has become wild with oregano, parsley, bolting mustard greens and collards. Alive and well, these are in transition from maturity to senior seed-making and in the next couple of weeks I know I will have to make space for some new sets of---well, I don't know yet. Maybe more collards, or some early offerings in garden at Home Depot where I work.
Also, I'm going to have to activate my good old lawn mower, a ten year old Yard Machine that was outfitted with a new mulching blade by my best handy guy, Doug. So, I bought a new filter and will check to see if the spark plug is still good. I've got oil from last year and, when the mower is topped, I will add the gas.
Oh boy! Here comes summer! I'm not that keen on mowing in ninety degree weather, but as long as I have my little house, my front and back yards and my garden, I guess I will keep my commitment with these duties, too.
Even though I'm 70, I know that this kind of garden and yard toil are good for me. I can always take a hot shower for my aching back and a short nap to re-align my energies!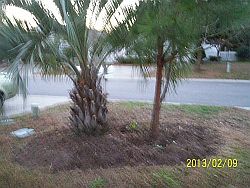 I have been working on the civilization of my front yard here in Wilmington, North Carolina. I have to confess that I have let this area go for a year and a half and many things have taken over, as they will here.
When I moved into this house six years ago there was just a stump in the front of the garden area where a pear tree had been knocked over by a wind storm. Wanting to retain that same vertical profile in the front yard, I had a landscaping service bring in a Pindo Palm and plant it. Pindo's are lovely with their arching fronds, but they have teeth. They are dragons with very serious spurs on their branches.
The stump where the pear blew over began to grow a new tree which has now reached a seven foot height growing from that stump. Also a Loblolly pine planted itself (probably due to squirrels or bird droppings) near the pear tree and that pine, has grown to over eight feet.
Lately,as we drove in from a luncheon, my friend Georgia said my front yard looked like a tangletown! That was enough for me to get going!
I started to prune the Pindo Palm, but realized it had grown too large and toothy for me to handle. One little dragon tooth cut on my hand made me call the landscaping service and they came and pruned many of the bottom branches. Then there was light!
As a lighting specialist, I was instantly inspired. The rest of the work,in brilliant sun light, I did today. I went out with small hand rake, shovel to edge and pruning shears and went to work.
While I was churning up the soil and pulling out weeds, a skink wiggled out of the soil and ran away--not very far away, but I marked where it went and decided not to clear that little area, hoping this very nice lizard would relocate nearby.
Whatever your challenges are with your yard or garden, keep in mind that it is your environment, it impacts your life, your neighbors, your community and even globally.
I am 70 years old and what I did today--well, I believe in that personal impact. I looked out of my front window with pleasure to see what I had done! It was such a good feeling!
From My Garden...2012
It has been a really hot year here in North Carolina, even for the South. I'm not sure that the little azaleas I planted last year have survived. Mums that bloom several times a year had tiny blooms and the foliage underneath was brown and wilted. I have learned to plant "soldiers" here, not knowing what to expect from season to season.
I know for a fact that any lantana I plant will always do very well, and I will have to prune its leggy growth at least twice in the summer. There is an aromatic, fresh and almost minty smell when I prune lantanas and then I wonder why. I will have to investigate their properties to see why they exude such a fragrant smell.
Things that have done well: Lantanas, long-needle pine that planted itself several years ago, pin leaf oak that planted itself several years ago, oregano, basil and this year, rosemary, gardenia, Leland cypress, morning glories, iris and outcropping of weeds that resemble moss roses and grow in clusters.
Things that have not done well: Azaleas in the back yard (the front is doing well but they are much more mature and don't get that relentless sunlight,) my roses (variety I don't know, I inherited them when I purchase this house,) Bermuda grass, always picky anyway and in this hot weather, becomes straw in days without water, Gerbera daisies, usually do really well but the heat is taking its toll with them, even with watering.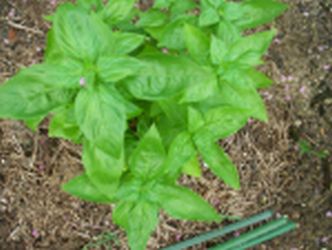 Make Your Own Spices! 2012
I have planted parsley, oregano and basil this year. My garden is simple and doing well. Collards that are over a year old are still leafing and I have plucked the insect riddled leaves, rinsed them well and enjoyed them cooked and buttered—good old collards!
Periodically, I cut my herbs, rinse them well, shake them and place them on dish towel covered cookie sheets. I leave them there to dry in my air-conditioned abode, turning them daily. After four or five days, depending on the herb, they are quite dry and then I separate the leaves from the stems. I've learned to feel the dryness and the sound the leaves make when separated. Then, the leaves go onto a plate and for a day or two, they will dry further.
I've found it is really important to dry the herbs well because the next step is putting them, bit by bit into my little electric coffee grinder and pulverizing them to a fine granular powder. After that, I put the finely cut herbs into a bottle and label them. At times, I have kept the herbs separate, labeling: "Rosemary," "Oregano," "Basil," etc. At other times, I have blended them all together into a mixture I usually label "Garden Mix" and date it. I love the "Garden Mix" best of all.
What I have learned from this procedure is that fresh herbs, dried carefully, pulverized and bottle make a very aromatic seasoning that far surpasses what is on the grocery shelf. I have sent these mixtures to my daughter, who claimed that the "Garden Mix" is what she reaches for first for seasoning salads, pasta, fish or just about anything else.
I don't know what the shelf life of grocery shelf seasonings are, but I have found them to be vague or tasteless after a couple months. My garden herbs fare much better, but I'm not sure why. It is difficult to put them to a "shelf life" test because they get used up quickly, well, within a year. What I have discovered is that the potency of my dried and pulverized garden herbs far exceeds any spices I have purchased, including expensive, organic bottle herbal spices.
I'm not quite sure why this is, I will have to research the preservative procedures with commercial spice further. Meanwhile, I am enjoying my sparks of parsley, rosemary, oregano or garden mix flavors shaken from a bottle and grown from my own garden.
Morning Glory Tree 2012
Two years ago I planted a Leland Cypress along the fence in my backyard. It is doing very well and is about eighteen inches taller and maybe eight inches wider from its original circumference. My usual annual growth of morning glories traveled over to the cypress and climbed right up its branches, decorating it with deep purple blooms.
Every spring I plant the traditional purple morning glories. From year to year they provide me with seeds for their next generation. I collect the seeds when they become pod-like little purses and store them in a glass jar until Spring. But, the ones that get away will gladly plant themselves in surprise areas where they take hold and start growing. They are very enthusiastic. I'm not sure about the cause of their migration, but I'm always happy to see them coming up with little heart shaped leaves in the Spring.
What I like most about morning glories is their very close attention to temperature and light. In hot summer, they will be out very early in the morning, then close up for the rest of the day. In fall, when the temperature is cooler, they will remain open longer and on cloudy, cool days, they are open for a good part of the day. This is a pleasure on a dark day, with the velvety purple flowers giving the back yard a glow...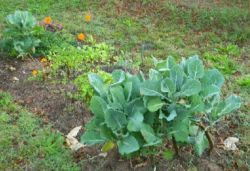 Beautiful Collards! 2012
My collard plants are going into their third year in my garden. I have recently been informed that they are perennials. Their stems are around one inch in diameter and they look like little trees. The leaves are small, tender and sweet. I have several collard recipes that will put on my Artful Cooking page, but just chopping the leaves into 1/4 inch pieces and simmering them in one quarter inch of water yields an aromatic and extremely healthful side dish. Adding a pat of butter, salt and pepper, makes this really tasty. Not only are my three year old collards doing well, but last summer, I let them bolt. They grew long stems of lovely yellow flowers which the bees loved. The flowers soon became seed pods which dried. I broke them and let the seeds spray down on the soil below the plants. For months, nothing happened, then suddenly in late summer little collard seedlings began to appear. I am watching them and monitoring how they will grow.
The same thing happened with my parsley. I want to include a picture to go with with my story of their progress.


October 2012--I Plant What Grows Easily, The Vine Mystery
It has been a hot summer here in North Carolina. When I moved here six years ago, I was inspired to plant a vegetable garden in my back yard, just like I've done for the past forty years in various locations (upstate New York, Connecticut, Massachusetts, and Florida.)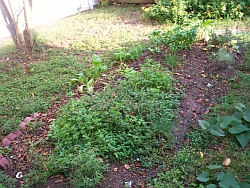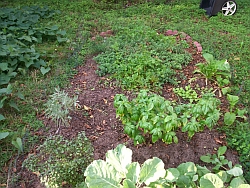 You can see from my previous posts, my garden has transitioned from a lot of vegetables, to less vegetables to herbs and collards--and this is my garden scenario also for 2012.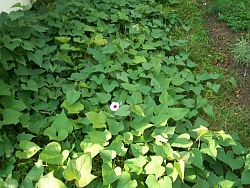 The Vines That Planted Themselves
I like to think of myself as an organic gardener. I compost, don't use commercial insecticides other than the ones that claim they are "organic," but, my years of battles with bugs have taught me that my garden endeavors would be easier if I just planted things that would be easy to take care of. This works well for me because I'm now 70 years of age, work part time at Home Depot, manage a website, teach art classes and try to find as much time as possible to do my oil paintings.
So, I have discovered that certain things are prospering quite well in my garden, and have been since last summer (keep in mind that this is Zone 8 North Carolina, and many things, especially what I've just planted, will keep on going through the winter, which consists of mild frosts, sun, freezing rain, snow, frost, snow, sun, freezing rain, sun, frost, sun.)
The hardy candidates now occupying my small, but productive garden space include, oregano, tarragon, parsley (into its third generation,) mustard India (Florida broadleaf,)and collards.
I have to say that during the hot, hot summer, the collards took a hit. My big, tree-like plants that were already nearly three years old became invested with beetles that kind of look like ladybugs but are voracious and they took many plants down. By the time I got to squishing their legions between thumb and forefinger (death by compression) they had decimated many collard leaves.
Recent rains have rallied the collards, as well as my oregano, parsley, and the now bugless collards are doing well. I also bought more collard sets, planted the rest of my tarragon and small basil (it's got a name I can't remember!) plus the rest of my India mustard seeds that I harvested from last year.
With the rain everything is doing well, and, with an addition of kale sets, I plan to have a garden that will supply me with wonderful organic greens all winter long--thanks to Zone 8!!
That said, because I am digging in compost close to my garden, often my cooking endeavors, especially with root vegetables, changes my compost pile to a garden, too!
The sweet potato vines started around August and continued to grow enthusiastically. I suspected that there were certain sweet potato parts I'd just pared off and put in the compost. Sometimes a bud will be in a root vegetable and that can grow on its own.
I love the way the vine leaves look, even though they now have taken over an area bigger than my little garden! If you haven't seen my recent paintings, please go to the Lois DeWitt gallery button at this website. You will see why I love the vines. Their shapes are in many of my oil paintings!
OMG, when I looked at the pictures I uploaded to this website, I realized something with the vines I'd not seen when I was out therein the garden! The leaves are different shapes! Some are heart shaped, some have little wing-shapes and some are real valentines with lobed "shoulders" at the top of the leaf. (See pictures!)
This was amazing! More amazing is that it took a computer image of a photo to reveal to me what is in my reality. This is a wonderful thing. We call it "fresh eyes" in the art world. At the end of October, I plan to pull out the vines and see what is connected to them underground. When I planted sweet potatoes two years ago, it was a lovely experience pulling up wonderful tubular shaped crimson-colored potatoes out of the ground.
What will come out from these variously shaped vine leaves? I will let you know!