Art Tours and Travel
Make your next vacation a cultural experience. Visit museums and galleries. Get inspired! You can even have an art-knowledgeable tour guide of your very own introduce you to enchanting and artful places.





How about a villa in Provence? A rustic cabin in a North woods setting? Perhaps you would enjoy hanging out with creative people and do your artistic thing in a quiet, nurturing art retreat environment

.



Art Tours



Art Smart creates tailor-made tours of art museums and galleries in New York City and beyond, as well as art-related travel programs for individuals and small groups--be they families, friends, or business associates. We also assist select clients with the development of their personal art collections by providing comprehensive art advisory services.
Leading newspapers and magazines, as well as concierge teams from elite hotels, recommend Art Smart as the finest provider of personalized guidance to art venues in our home base of NYC and around the world.
It doesn't matter if you're a newcomer to the art scene or a veteran art lover; Merrily Kerr New York Art Tours will custom tailor an art tour for you. Tours cater to individuals or groups on corporate excursions, international tourists, student groups and any others wanting to sample the best art in New York City. Merrily Kerr is licensed as a Tour Guide by the New York City Department of Consumer Affairs.



Do you have an interest in art and travel? Would you enjoy painting outdoors and sightseeing in some of Italy's most beautiful locations accompanied by a diverse group of creative people? If so, you've come to the right place. Our philosophy is simple - to create the most relaxing and pleasurable Italian painting vacations possible in the best accommodations at the most reasonable cost. An Arts Sojourn is not only for artists, but for all who enjoy the camaraderie and advantages of group travel without the rush and regimentation. Experience the Arts Sojourn difference!
This July 23th, 24th, & 25th and October 1st, 2nd, & 3rd, some of the northwoods' finest artists and artist owned galleries are allowing visitors a behind-the-scenes view of how their work is created. The Northwoods Art Tour features on-site artist demonstrations, original local art for sale, and access to many home studios that are rarely open to the public.
Arts In Provence

Arts In Provence
Arts Provence offers south of France art holiday & art vacation plus sightseeing tours for art experience to see Avignon & Marseille arts. Based at our luxury Provence villa in Maussane les Alpilles nr St Remy de Provence, we can tailor your art holiday to ensure you get the most from your stay here in the south of France so you can return home with a memorable art experience.
Paris muse is a group of art history instructors and museum guides offering private guided tours of the great art museums of Paris, including the Louvre, the Musée d'Orsay, the Rodin museum, the Picasso museum and the Centre Pompidou.
Distinguish yourself from the tourist herd. Paris Muse offers intimate, interactive tours. Make your museum visit the contemplative experience art was intended to provide.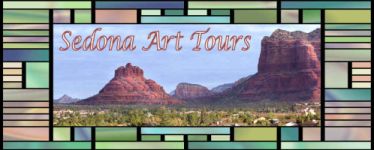 Sedona Art Tours
To see a work of art "being born", come and join us for one of our fabulous Sedona Art Tours. Each tour will take you to the home or studio of three different Sedona artists.
Each artist will tell you why they chose Sedona as their inspirational special place. They will discuss their backgrounds and what challenges them when creating. You will witness a work in progress where you can see many specific techniques. You may even walk out with a new technique of your own... or discover the artist in yourself.
Specialtours

Special Art Tours
Specialtours is an established leader in the field of escorted tours for museums and cultural associations.
Our reputation rests to a great extent on tours to Europe featuring exclusive private visits to houses, art collections and gardens, thanks to a network of contacts established over many years. Special visits might include privileged out-of-hours access to a museum, a visit to an artist's studio or an opportunity to see expert restorers at work in situ.
We aim to offer the perfect balance between a study tour and a holiday or vacation. In addition to imaginative and carefully-planned itineraries focusing on art, archaeology, architecture, history and gardens, we can offer walking or painting trips, wine and gastronomy tours and wildlife safaris.
University Educational Inc.
University Educational Tours
* ARCHAEOLOGICAL TOURS * ART TOURS * RIVER CRUISES * HISTORY TOURS * THEATRE TOURS * ARCHITECTURAL TOURS * ETHNOLOGICAL TOURS * SPECIAL INCENTIVE TOURS * BUDGET TO DELUXE * ALWAYS EDUCATIONAL
* CHINA * EUROPE * RIVER CRUISES * ART TOURS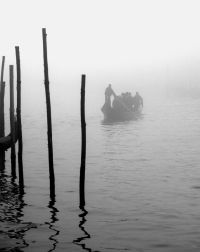 Venice Art Tours
Venice Art Tours
We offer private 4 hour walking tours for travelers who wish to see the best of Venetian art, history, and architecture. Our walking tours are in English. The tours we provide are exclusively for you or your small group - no one else is mixed in. Our emphasis is on private and personal tours, not groups, and you won't find the tours bland or superficial.




Art Travel
Artful places to visit or stay. Beautiful settings and peaceful surroundings for working creatively. Workshops and classes with wonderful art instruction offerings.
Be inspired by solitude or the companionship of creative people. Choose a rustic setting or an elegant getaway with many amenities.



Painting Holidays in France Step back in time to enjoy painting and drawing the beautiful landscape at the heart of rural France. Be inspired by our châteaux and lakes, indulge in our delicious local specialties and traditional dishes. Relax in our charming farmhouse Bed & Breakfast and Gite accommodation. Where our lawns and gardens end - Limousin begins.
Our painting courses include drawing, watercolour, acrylics, pastel, and mixed media with qualified and experienced teachers.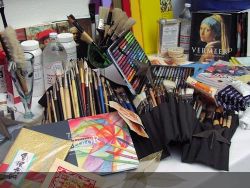 Anna Rhodes Retreat
Anna Rhodes Artists Retreat
Art is not only created through desire, necessity, presence and passion but through acquiring knowledge of materials, techniques, patience and practice.
This is an in-depth concentrated art course designed to encourage instinctive, confident creativity through developing skill and imagination within a creative community. Students experience the unfolding of their unique style and palette and will have the opportunity to explore the wonders of a wide array of the finest pigments, pencils, papers and brushes. Through drawing and composing, painting and layering mixtures of mediums, personalized instruction and group discussion, we will use both experimental and traditional techniques to guide our travels through realism, impressionism and into the realm of magic.



La Muse writers' and artists' retreat in Southern France offers creative individuals a peaceful, inspiring, mountain setting in which to pursue the work they love.
We aim to encourage artistic exploration, nurture creative thought, and forge bonds between diverse thinkers.
Our vision is for you to find inspiration and make progress on your work within these walls.
Where do you go to vacate and create?  Do you have a favorite artful place that enriches your life?  Where would you like to go for artistic edification? Contact me!  I welcome your comments, suggestions and questions!