When Kevin Was King
Written and Illustrated
By
Lois DeWitt

On a hot July afternoon, in the shade of an ancient tree on the edge of the forest, Kevin decided he would be King.
"I shall rule and be a good King over all I survey. My domain is thus--from the Mordin Lake to the Stone Wall, from Elexar Forest to the Chanting Hills, from the road to Blaer to the Valley of The Downs. Today, I will welcome all of my subjects to my castle!"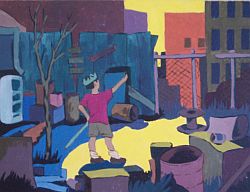 "You, air-climbers and sitters on statues, I invite you!"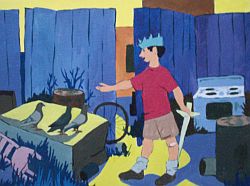 "You, members of the multitudes of the lower realms, I invite you!"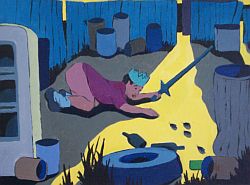 "You night-seekers and gutter-runners, I invite you!"



"You, great and fearless hunter, I invite you!"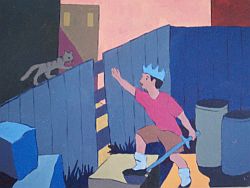 Maiden journeying to the market with your mother, I invite both of you!"



"And you, soldier of fortune on the Road to Blaer, I invite you!"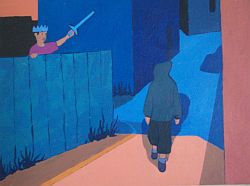 "And you, good citizens of the Realm, you are invited!"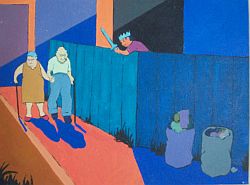 "And let there go out from my Kingdom a decree!" Kevin raised his sword, "I will be a good King to all of my subjects. I bid you all live in peace and prosperity! May your cows grow fat, may your corn grow tall and may your orchards bear much fruit!"
The setting sun glinted on Keven's bejeweled crown. He bowed to his subjects and wiped the sweat from his brow. He was hot and thirsty from his royal speech.
"Servants, let us now have a banquet in honor of this occasion!"
The King sat at the end of his long, oak table. "Servants, make sure everyone has roasted turkey, potatoes, gravy and berry tarts!"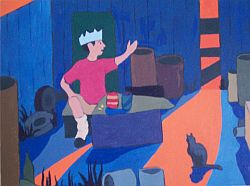 When the banquet was finished, King Kevin mounted his beautiful white charger and galloped across the countryside. They leaped fallen logs and bubbling streams. The gold chains on his horse's harness jingled merrily. The King's banner rippled red in the wind.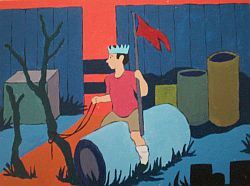 Suddenly, out of the forest came a huge monster with smoke and fire shooting from its nostrils. It roared his name, "Kevin! Mom says for you to get in here, NOW!"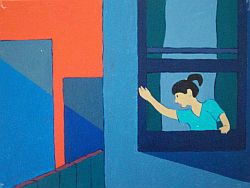 "Good night, Mordin Lake. Good night, Stone Wall. Good night, Elexar Forest. Good night, Chanting Hills. Good night Road to Blaer. Good night, Valley of the Downs...."