Black Charles and Mrs. Gray
By Lois DeWitt
Puppies in the yard, all at play,
Then one day came Mrs. Gray.
"Let me see, I'll take that one."
"He's a good pup and full of fun,"
The kennel owner said, and put the pup in a crate.
He put in some water and kibbles to eat.



Then off Mrs. Gray went with the pup in the back.
"What should I name you? You are very black.
Black Jack? Black Bob?" Nothing sounded right.
"Black George? Black Ike? Black Jim? Black Dwight?"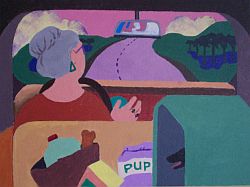 Robert greeted her in front of the house.
He opened the car door and took the crate out.
"What have we here?" he peered inside.
"A pup with no name--I've tried and tried--"
"Call him Charles! Black Charles!" Robert said,
"I'll take him inside and make a place for his bed."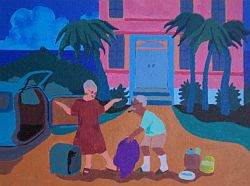 So Charles, Black Charles (that wasn't so hard)
Came to live in a big house with trees and a yard
Where he ran and ran for hours and hours
And when he got tired, he ate all the flowers.
Mrs. Gray was quite upset.
"What will I do with this mischievous pet?"
"Oh dear," said Robert, "I have some bad news.
Black Charles has eaten one of your shoes!"
Black Charles grew and grew and grew
And then he ate the other shoe.
Mrs. Gray said, "This isn't much fun--
But then, I couldn't have worn just one!"



So they hid all the things that Charles might chew,
The phone book, small rugs, the lamp cords, too.
Small tables, a hat rack, some cushions, a chair--
"Now that everything's hidden, the room looks quite bare!"
And while they were clearing the house of all chewables,
Charles in the yard was digging some new holes.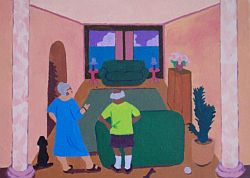 Mrs. Gray asked Robert, "What shall we do?"
"Puppy school!" he said. "That's what we'll do!"
So the next day Mrs. Gray and Black Charles enrolled.
"He'll learn to behave and our problem is solved!"
"Welcome to Puppy School! My name is Sara Towners,"
The red-haired woman said to the pups and their owners.
"We will learn how to walk with the leash today
And tomorrow we'll learn how to sit and to stay."
By the end of the week, to Mrs. Gray it was clear
That Black Charles would need Puppy School for a year.
"He's smart!" said Sara to Mrs. Gray,
"Just practice and practice. He'll get it some day!"



So day after day they walked and they sat,
They lied down, they stayed and then walked after that.
And day after day Black Charles did as was he was told--
Then went in the yard and dug another hole.



A month went by and Mrs. Gray
Had to go to the hospital for an X-Ray.
So, Robert said he'd take care of the pup,
And when Charles ate a shrub, Robert tied him up.
Charles pulled at the rope and pulled very hard,
In the noon sun, it was hot in the yard!
He barked and barked, "How rude! How rude!
I'm here with no water, no shade and no food!"



But Robert had gone on the bus to Kent
And on the way, the bus had an accident!
And to the hospital all the passengers were taken,
Mrs. Gray saw that Robert was really quite shaken.
"The bus ran into the back of a truck!
And I left Charles in the yard tied up!"
Mrs. Gray said, "Get Sara! Call her up!
She'll go and rescue that poor pup!"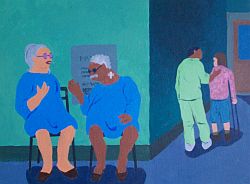 But Sara's phone was busy and busy,
And Charles in the sun was getting dizzy.
Then he heard a noise on the front lawn.
Someone had noticed the car was gone!
Someone was climbing into a window on the side!
Charles tugged hard at the rope and it came untied!
Black Charles eyed the fence then took a giant leap.
He cleared it and landed in a heap!



The window was open--there was someone inside!
Charles' nose said--a stranger. This could not be denied.
Another leap and Charles entered--"Barka! Barka!"
The robber was putting two candlesticks into his parka.
With another leap, Charles brought the robber to the floor
Just as Sara came in the front door.
"Stay, Charles! Stay!" Sara commanded.
And so Charles stayed, and so the man did.
She called the police who arrived in a minute
Then drove away in their squad car with the robber in it.
"Black Charles," Sara said, "You've learned your lessons well.
To Mrs. Gray I'll have quite a story to tell!"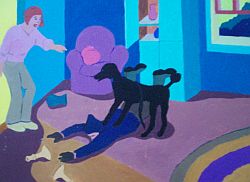 Mrs. Gray returned from the hospital (her X-Rays were fine.)
"Black Charles," she said, "I'm glad that you're mine."
And then Robert returned to hear all the news,
(He had a small cut and one little bruise.)
Then they sat in the back yard, having some tea
And Charles was digging a hole, oh, dear me!
E-mail your questions and comments about my stories to me. I'd love to hear from you!