Learning to draw what you see is one of the biggest challenges in developing drawing skills. Basically, you are teaching yourself to see things in two-dimensions so you can easily translate it to a two-dimensional form (a sheet of paper.)  If you close one eye and handicap your perception of depth, things appear more or less flat.  This plus learning how to translate what you see into  a grid-like reference allows you to accurately place objects and images on to paper or canvas.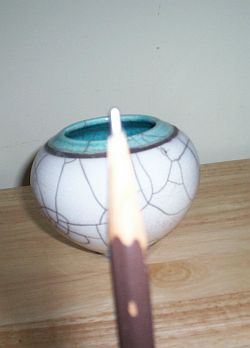 Using the Pencil Gauge Method
Hold a pencil vertically in front of an object. Place your thumb on the pencil to determine the length of the object.  Remember the measurement.
Hold the pencil horizontally and place your thumb on to measure the width of the object. Remember the measurement.
What is the difference between the two settings?  Let's say the vertical setting is longer than the horizontal.  How much? This determines the size and proportion to the object you are looking at.  Basically you are using the pencil as a grid to determine the size of the object in front of you. You can draw the basic shape of the object and verify its proportions this way.
Set up two or three simple-shaped objects and try the pencil gauge method. These are important skills to drawing what you see whether it is a still life, a landscape, a portrait or a figure drawing.

This grid method was developed during the Renaissance and was an important skill that enabled masters like DaVinci and Durer with  to depict the proportion of objects accurately . Here is my video that demonstrates this method.