WILMINGTON ART CLASSES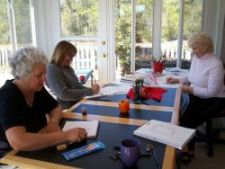 Professional instruction with Lois DeWitt
I have over fifty years of art teaching experience in private schools, community colleges and studio instruction. I hold a Bachelors of Fine Art Degree from the Minneapolis College of Art and Design and a Masters of Fine Arts Degree from Pratt Institute, New York.



SUN ROOM STUDIO
Classes are ongoing, you can enroll anytime or request custom class times and instruction in a special area of interest. These are small classes with personal guidance in a friendly, sunny art space!
Click here on my blog--go to comments (at the bottom of the page!) to enroll or for more information. I will respond within a day!
OR call Lois DeWitt at 910 547-8115 OR email loislight@bellsouth.net



Art Classes With Lois DeWitt
Four weekly two hour sessions--$80.00
Supply lists available.
Contact Lois at 910 547-8115 or email loislight@bellsouth.net


Turn Over A New Leaf!
Make beautiful prints using natural materials: leaves, twigs, grasses, shells, etc. This technique is great for journals, greeting cards, calendars, note cards and, of course, small lovely prints.
Monday Morning 10-12 Monday Afternoon 2-4
Paint In the New Year!
Love the Impressionists? You can paint that way too! Learn how small dots of color unify to create a vibrant painting. Bring a photo of a subject you would like to paint or I will provide a photo for you.
Tuesday Morning 10-12 Tuesday Afternoon 2-4
Got Charcoal In Your Christmas Stocking?
Use it! Working from simple still life objects (oranges, apples, a mug, etc.) I will show you how to use charcoal drawing to produce light and shadow on simple objects.
Wednesday Morning 10-12 Wednesday Afternoon 2-4
Collage Break!
Take a well deserved break from 2016 and learn the magic and glory of collage using a wide variety of papers. Learn how to use found papers as a visual vocabulary and how to make images sing on paper.
Thursday Morning 10-12 Thursday Afternoon 2-4
Draw Upon Your Creative Self!
I will guide you through four projects that will reveal your imagination and develop your creative abilities using pencil, pen and ink and water color.
Friday Morning 10-12 Friday Afternoon 2-4
Just Kids Workshop
Ages 6 to 12 Children will explore water color and color pencil methods to make awesome fish and sea creature paintings. All materials supplied.
Saturday Morning 10-11



Find out more about the Cape Fear Literacy Council!



North Carolina Travel Guide offers a well organized, informative "all in one" site where you can come to find all the resources you will need to plan your next trip to beautiful, friendly, North Carolina.