WILMINGTON ART CLASSES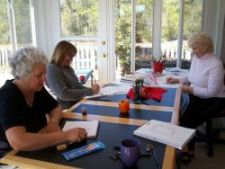 Professional instruction with Lois DeWitt
I have over fifty years of art teaching experience in private schools, community colleges and studio instruction. I hold a Bachelors of Fine Art Degree from the Minneapolis College of Art and Design and a Masters of Fine Arts Degree from Pratt Institute, New York.



WELCOME TO THE SUN ROOM STUDIO
If you live in or near Wilmington, North Carolina, my Sun Room Studio is not far away!  I publish a new class schedule once a month and look forward to being your art instructor!
Classes are ongoing, you can enroll anytime or request custom class times and instruction in a special area of interest. These are small classes with personal guidance in a friendly, sunny art space! Contact me today by filling out the form below or call 910 547-8115.

Art Classes With Lois DeWitt
Four weekly two hour sessions--$100.00
Supply lists available.
Saturday Kid's Workshops $15.00—All materials are provided.
Printing With Natural Materials
Make beautiful prints using natural materials: leaves, twigs, grasses, shells, etc. This technique is great for journals, greeting cards, calendars, note cards and, of course, small lovely prints.
Monday Morning 10-12 OR Monday Afternoon 2-4
Impressionist Painting
Love the Impressionists? You can paint that way too! Learn how small dots of color unify to create a vibrant painting. Bring a photo of a subject you would like to paint or I will provide a photo for you.
Tuesday Morning 10-12 OR Tuesday Afternoon 2-4
Draw Light and Shadow with Pencil
Beginning with simple shapes (circles, squares, etc.) and then still life objects (oranges, apples, a mug, etc.) I will show you how to use pencil shading techniques to create light and shadow and create dimension in drawing.
Wednesday Morning 10-12 OR Wednesday Afternoon 2-4
Coastal Critters in Water Color
Learn how water color pouring and color blending methods make fish, turtle and shell shapes pop. Add colored pencil drawing designs for additional vibrant color and texture.
Thursday Morning 10-12 OR Thursday Afternoon 2-4
Draw Upon Your Creative Self!
I will guide you through four projects that will reveal your imagination and develop your creative abilities using pencil, pen and ink and water color.
Friday Morning 10-12 OR Friday Afternoon 2-4
Just Kids Workshop
Ages 6 to 12 Children will explore water color and color pencil methods to make awesome fish and sea creature paintings. All materials supplied.
Saturday Morning 10-11:30 


Find out more about the Cape Fear Literacy Council!



---
The North Carolina Travel Guide offers a well organized, informative "all in one" site where you will find all the resources you will need to plan your next trip to beautiful, friendly North Carolina.