Beginning Acrylic Painting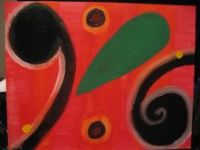 Acrylic Painting Studies by
Free Online Art Classes Student
Sharon Tucker


---
ABOUT YOUR ART MATERIALS
Canvases, acrylic paints and brushes are very important. You won't have to spend a fortune for the materials but if you choose better quality materials what you paint with and what you paint on will determine to a great degree the success of your work.  I have found that ordering my art materials from Amazon is easy, affordable and delivery is fast!
Acrylic paints come in a variety of "bodies." Some are flow-type, they come in a bottle and sometimes a tube. They are very fluid. Heavy bodied acrylic paints that are thicker and generally cost more but are better for shading and gradations.
I find that mixing, blending and brush stroking this kind of thicker paint is easier to use. Also, the colors are better because there is more pigment in the paint. Heavy-bodied acrylics also produce texture and in the long run, you will use less because of their consistency. Here is a list of acrylic paints I recommend to my students. These are 2 oz. tubes of the following colors:
Cadmium yellow
Cadmium red
Alizarin Crimson
Pthalo Blue
Permanent Green
Burnt Umber
Raw Sienna
Preferably a large (7.6 fl. oz.) size tube of Titanium white
For students, I recommend the synthetic bristle brushes (like Taklon of similar) in the following sizes--
1/2 inch width flat
1/4 inch width round
3/4 inch width flat
1/8 inch width round
I usually give the width measurements of brushes to my students because so many brands have different numbers that vary and often they are not standardized.
A 9 x 12" paper palette is easy and convenient. At the end of a painting session the used page of paint can be torn off, folded up and put in the freezer so the paint can be saved and used in the next session (just a minute of thawing will be needed.)
Buy a package of canvases--8 x 10, 9 x 12 inches or 11 x 14 sizes are recommended. You will want several sizes on hand.
Any clean plastic container will do for water plus clean rags or paper towels for cleaning your brushes. Note: clean your brushes well! Acrylic paints are a polymer emulsion--basically you are painting with plastic and that plastic likes to get into the bottom of the bristles of your brushes and become like cement. So clean your brushes well with soap and water and you won't have to buy new brushes all the time. Gather up all of your supplies and begin. And have fun!
This basic exercise shows how to make a circle become a sphere. Do this and then draw squares, rectangles and triangles to shade. Note: a circle is shaded with a crescent-shaped shadow, but what kind of shadow does and square or triangle (pyramid-shape) have?
Another fun exercise that teaches the semi-transparent properties of acrylic paint is stamp and stencil.  Students use stencils to build up richly colored compositions of overlapping shapes.  Layered stencils become new and exciting configurations-and the possibilities are limitless
Check out Richard Robinson's Painting Lessons.  I have chosen to be an affiliate because the quality of his painting instruction is the best--clear, simple and guides you in the right direction.  View his special offer.
Richard Robinson's Painting Lessons--SPECIAL OFFER.
Click here for your FREE Intermediate Acrylic Painting videos