Draw With Colored Pencils
Welcome to Colored Pencils Lessons!
Here is what you will need to begin your lessons...
Colored Pencil Lessons Art Supplies
A set (at least 12 pencils) good quality colored pencils. I recommend Prismacolor or Derwent.
A 2B drawing pencil (or similar soft lead drawing pencil.)
A spiral-bound 9" x 12" sketch book of good quality paper--preferably 70 lb, acid-free and at least 50 pages.
A pink pearl, white or gum eraser
A good quality pencil sharpener, "manual" or electric
A 12" ruler
Easily purchase your sketch book and Prismacolor pencils online at Amazon. Below are sets of 12, 24 and 48. Choose the price that is right for you!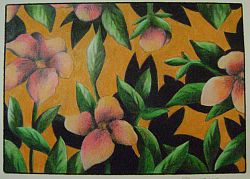 "Lilies"
Colored pencil drawing
by Lois DeWitt

Colored pencils are a wonderful way of drawing! With basic drawing skills you can achieve colorful drawings that are awesome!
If you feel you would like to improve your drawing skills before working with colored pencils, go to the Learn Basic Drawing button on the left to start the drawing lessons.


Lesson One - The Power Of Doodling
Sharpen Your Pencils! Ready?
Doodling is just drawing freely, with no thought or idea in mind and using swirling lines, circles, dots, whatever you want to. Line is a mode of expression.
On a page in your sketch book, with a colored pencil of your choice, begin doodling. Although doodling may seem all too elementary, it is a very good way to start to learn how to draw and become acquainted with a new medium. Fill the page with a your doodle drawing. Make swirls, lines, dots, dashes. When you are finished, look carefully at it.
What do you see? Recognizable shapes will appear--animals? flowers?letters? Outline the image with a strong dark line of another color so that the shape will stand out from the rest of the drawing. What else do you see? Identify several objects and strongly outline each one with a strong line.
You may want to choose some areas for separate colors. It is up to you. Keep in mind, however, that you are working to showcase your chosen images and keep it simple. When you are done, stand back and ask yourself if you have dealt with the images effectively. If you are not sure, you may want to do the Lesson again. Whatever you learn here will be a great resource for your future work.


Lesson Two: Three Column Shading and Shaded Sphere Exercises
Three Column Shading
On a page in your sketch book, with a ruler, make a 6" x 6" square. Now divide it into three 2 inch vertical columns.
Choose three colors (any colors will do) one for each column. Now begin with the first column on the left and with one of the colored pencils shade the column. Work for the top of the column being the darkest and the bottom of the column being the lightest. Shade gradually, so that the gradations are even and you don't have any"stripes" in your shading. It should appear that the three columns are gently illuminated from the bottom up. Use the method of crosshatching, using short strokes of lines at all angles (sort of like weaving a basket.) Shade each column working for even gradations with very solid color at the top and very faint shading at the bottom.
Watch my video on "Three Column Colored Pencil Shading."


Shaded Circle
On a page in your sketch book, make a circle using a compass or plate as a template. Choose a dark colored pencil and a light colored pencil (for example, dark blue and yellow.)
Pretend light is coming from the upper right corner of your paper and is illuminating the circle. Shade the circle on the left side using small, short lines (if the light is illuminating the circle on the upper right, you will need to make a shadow on the left.) Fill it in slowly with the small lines. This technique is called crosshatching and is a very good way of shading. Shade approximately half of the circle, starting out very dark and going to lighter and lesser lines.
Now, where the light is hitting the circle, start shading in the light color you have chosen. Slowly blend the lighter color into the darker color. Work back and forth, light into dark and dark into light to achieve a gradual shading and highlighted circle. It should start taking on volume and appear to be a sphere instead of a circle. Make sure your gradations are gradual. This is the most effective way of achieving the effect of light and shadow.
Now put your shaded circle and three-stripe drawings next to each other and step back to look at them. Are the three stripes evenly gradated? Does the circle look like a ball that is illuminated?
If not, try again, until you achieve this effect. These exercises are essential in learning how to shade and highlight with colored pencils--in other words, how to control your shading technique and give volume to a drawn shape.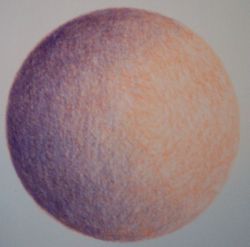 A circle shaded with colored pencil becomes a sphere.



"Oranges"
colored pencil drawing
by Lois DeWitt



Lesson Three - Drawing A Still Life
What is in your house that is simple-shaped? A baseball? Grapefruit? A large book? A vase? Find three simple-shaped objects and put them on a table. Now, don't just line them up like soldiers! Arrange them so that one object is in front and centered, one object is in the middle and off to the side and one object is in back and off to the side. Why? A less predictable arrangement is going to be more interesting to draw and will make a better drawing.
On a new sketch book page, with the 2B drawing pencil, draw the objects using light, simple lines. Erase to correct until you feel the drawing is fairly accurate. Accurate placement in your drawing is important, but don't spend any more than twenty minutes on this initial drawing.
Now use your colored pencils and begin filling in the basic color in the still life objects and also the background.
For example, if you are drawing that lovely grapefruit you will have for breakfast tomorrow morning, choose a color that is nearest to its relative color. If it is a pink grapefruit, pink would be the basic color. If it is a yellow grapefruit--OK you get the idea.
Now block in the rest of the areas. Choose a basic color for the table top and another basic color for the background surrounding your lovely still life objects. Fill the page and work, with your colored pencils to have an equal coverage of color all over the entire sketch book page. This is important because, if you leave certain areas blank, the white color will stall any activity you choose to do further with your drawing. These super white areas are like little snow storms that blind you to the color environment you are trying to create.
Shading A Still Life
If you have a little lamp, work light or flashlight place it at either the left side or the right side of your still life. And if you can dim or darken the room, all the better. This little light will help you see the illumination and shadows of your still life objects. If there is no light you can use, you can achieve a very convincing shadow/illumination effect by shading everything on the left and making everything on the right light colored.
Choose a dark color close to the color of the shading on the object. For the shadow on a grapefruit, for example, if it looks gray, but you don't have a gray colored pencil, youcould use a similar dark color like brown, black or even blue.
Shade lightly and build up the areas slowly. Do all of the shading on all of the objects, as well as any shading tht might be on the table top or the background. Work gradually, with small, short lines and a light touch.
Highlighting A Still Life
In drawing with a regular lead or graphite pencil, you have only one option to achieve the appearance of illumination on an object--that is to let the white of the page act as that illumination.
With colored pencils, however, you have a white or light color that can duplicate the illumination. So, now that you have completed your shading, use a light colored pencil, I recommend white for this exercise, to block in the illuminated areas on your still life objects. As with shading, you are going to have to blend the white into the shaded areas. Once that is done with every object, you will need to work the shading and the highlight colors together, blending lightly and carefully--integrating the lines.
In most cases, you will see that the blend of two or more colors in colored pencils gives you a different color. Surprise! In this way, layering many different colors with colored pencils is a way of creating a new color.
Here a some videos I created that will help you with the skills and techniques for drawing your still life with colored pencils!
Draw A Vase With Colored Pencil
Draw A Vase With Flowers (colored pencil)
Draw A flower With Colored Pencils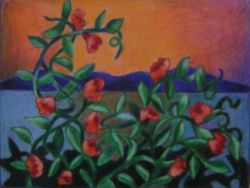 "Red Flowers" colored pencil drawing by Lois DeWitt

Lesson Four- Drawing A Landscape
With landscape as your subject matter, you can either work directly outside, work from the inside looking out of a window or work from a photograph. Whatever you choose, keep it simple.
Especially in using landscape as subject matter, you will find you can not include everything. It's a complicated world out there. You must choose certain things to put in your drawing, while leaving other things out. If you are working outside, or looking out of a window, you may want to use a template to help you select an area to work on.
Tear out a sketch book page. With a ruler, draw a 4" x 4" square on the page. With small scissors, cut out the square. Now hold the paper up to the landscape area you have chosen. This square will frame an area of the landscape and help you choose what part you will select to work on. You can also use this technique to crop a photo to select exactly the subject matter you want to work with.
You can start your drawing with the 2B pencil and then fill in with colored pencil--or if you feel confident enough, just begin drawing with you colored pencils.
As your landscape drawing develops, check for accuracy in shapes and scale. Develop your shading slowly and remember, where you leave the white of the paper, that will be light and where the light colors go.
When you are finished with your landscape drawing, put it up on a wall, step back and look at it carefully. Are you shadows and highlights successful? What mood or feeling does your drawing convey? Did you like working with landscape as subject matter or would you prefer another kind of subject matter?



Lesson Five- Drawing A Self-Portrait
You've looked at yourself in a mirror hundreds, maybe thousands of times. But now, you have to look at yourself in a different way. Make yourself comfortable for this exercise. Set up an area with a table, chair, mirror and a lamp. On the table, place the mirror so that when you sit down, you will be able to see yourself. Set the lamp to one side of the mirror (left of right) to provide directional lighting.
Now get your sketch book and turn to a new page Have your colored pencils in easy reach.
Using your 2B drawing pencil or a colored pencil of your choice, draw your face. Do include your neck and part of your shoulders. Fill the entire page with your image. Start by making a simple oval shape, then check the shape of your face and features, your neck, hair and shoulders, for accuracy.
Be as accurate as possible, but don't spend more than 20 minutes on this drawing. Especially, in self-portraiture, it is so easy to get hung up with an eyelid, or a cheek bone that just doesn't look right. Looking right is not what we are about here. This exercise is about practicing shading and highlights on a very accessible and inexpensive model (you!).
A lamp set off to the side will help you see shadows and highlights easily. Build up the dark areas where the shadows are using small, short shading lines. Now deal with the highlights. Remember, you will need a light color, white, yellow, etc. Work the light into the dark. Work back and forth, building up dark and light areas slowly.
As you work, think about the emotion you are conveying in this self-portrait. Is it boredom, detachment, excitement, loathing, or loving? Whatever your take is, emphasize it with the shading and highlighting. Bring in strong lines of color to delineate certain areas. Look carefully at your colors, see how they can be used to your purpose. Blend colors together to create the colors you want.
The video below is about how to draw a vase (not a face!) but the technique can be easily applied to your self-portrait. Have a look!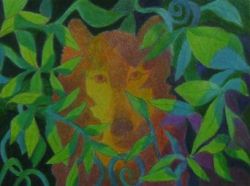 "Red Wolf"
Colored pencil drawing
By Lois DeWitt


Lesson Six - You Choose the Subject Matter
So now you know quite a bit about shading and highlighting with colored pencils. You also know pretty much how colored pencils work, how you can blend colors with them and what happens when one color is over layered with another.
Your mission now is to relate what you've learned to finding your own personal way of working with this wonderful medium!
For students who have come this far with colored pencils, I say it is time to find something of interest to draw. And I give them a checklist of questions to ask themselves regarding what they have learned. In this way, they can review their learning experience and find out what direction they want to take with colored pencil drawing.
Checklist
*What do you like about working with colored pencils?
* Do you prefer shading, making solid color areas or both?
* What don't you like about using colored pencils?
* Do you want to work realistically or more abstract?
* How can you continue to explore and develop what you liked doing?
It's up to you now, to produce your very personal work. With what you know about working with colored pencils, you will succeed in creating an artwork that is first and foremost, YOU!
View this video I made about my own technique I developed using colored pencils!
Colored Pencil Drawing My Technique
And here's a different slant on my technique, making a still life from the corn bread I'd baked for a demo for my "Pop It In The Toaster Oven" cookbook! Be inspired!
Corn Bread Colored Pencil Still Life Drawing