Art Projects--Short and Sweet
Short and Sweet Videos And Beyond!
Over the past six years I've made over 200 art and cooking YouTube videos. The Short and Sweet Art Project videos are all examples of the information-rich, step by step instruction I offer on my website Free Online Art Classes.com!
Click here to see more of my art and cooking videos on my YouTube Channels!
Here are my Short and Sweet projects that are popular with youth and senior groups as well as the whole family! Have fun creating!
Most of the Short and Sweet Art Project video demonstrations are about five minutes in length. Depending on the project, they take from one to three hours to complete.
All are easy, fun, information-rich videos of projects that require simple materials that can be found around the house or easily purchased at the store. I have also included, for easy online purchase, Amazon links for materials for each project. Just click on the Amazon link to view and purchase!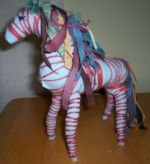 SHORT AND SWEET ART PROJECT - CREATE A CLOTHES HORSE
What is a "Clothes Horse?" I've created drawings, paintings, collages and ceramic sculptures of horses. One day I just sat down with some wire and started twisting the wire around into a horse-type form.
When I had the horse form done, I thought how I would make the body of this horse from its armature (which in sculpture is the inner form that holds everything together.) I got inspired and grabbed an old t-shirt, cut it into strips and started wrapping the wire horse form.
It was fascinating how the horse took shape! After I had the horse completely wrapped with the t-shirt strips, I got inspired again and took some yarn which I had and started to wind that around the horse. It was very interesting how the yarn and the cloth made a kind of drawing in three dimensions--the yarn being like a line around the form of the horse! All the time I kept in mind that the way I was "fleshing out" the horse, still allowed me to move its body. So I was making a horse that could be positioned in many ways, to run, walk, roll over, and practically every position a horse could think of!
Then, I added a yarn tail and mane, some ears and eyes. It was so much fun, I decided to make a video and share it with you! If you make a "Clothes Horse" you will enjoy it immensely!
If you want to make a "Clothes Dog," a "Clothes Rabbit," a "Clothes Duck," or whatever, after viewing this video, you can easily translate the "Clothes Horse" form to what even form you want to make!
Rainy day or not, give this one a try!
View this new kid's workshop video..
SHORT AND SWEET ART PROJECT - HOW TO MAKE A PINCH POT
Making a pinch pot is basic to learning how to work with clay and other plastic material used in ceramics and sculpting. In this video I demonstrate making a pot with Sculpey, which is a clay that can be hardened by baking in an oven.
This technique give the student confidence in forming and shaping and presents a skill that can be translated to larger and more intricate forms in ceramics, pottery and sculpture. Making a pinch pot can be enjoyed by children, beginners and artists researching new forms. After the pot has been hardened by baking, it can be painted.
Click here for my video on "How To Make A Pinch Pot"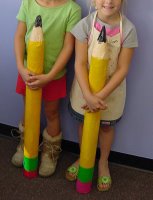 Kathy Barbro's great website for kids' art projects! Click here!
These giant pencils were a favorite among students and parents alike last summer in my private art class. The basic shape comes from a mailing tube, which I found at my local moving supply company.
I'm happy to share my personal collection of art projects in hopes that they might encourage the creativity of young and old alike.
--Kathy Barbro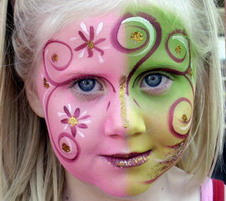 We aim to answer many face-art questions of both beginners and pros, in most languages. You'll find quality designs, examples, free advice and ideas. You can shop for the items you need. If you love art, you'll enjoy our tradition, strange and unusual pictures on our example page.



SHORT AND SWEET ART PROJECT - THE BLOT PAINTING TECHNIQUE
I use this technique often in painting with acrylics and creating greeting cards. This free and easy technique allows me to experiment with layering colors and producing rich color passages and textures.
Blot painting is ideal for anyone learning how to use acrylic paint, as well as the experienced painter wanting to investigate new painting skills and applications.
Detail may be added at any time during the process, using a pencil or pen. I sometimes incorporate oil pastels, which create a resist and bring in new areas of color and texture. The blot painting technique invites inspiration and imagination. Surely, your creative abilities will be enhanced by using this method! Give it a try!
Click here to watch my video about "The Blot Painting Technique!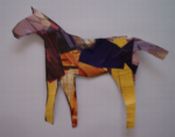 SHORT AND SWEET ART PROJECT - MAKE A PATCHWORK HORSE
This is a collage technique I have a lot of fun doing (and I think you will, too!) All it takes is a sheet of sketch book paper, found papers cut from newspapers, magazines, packaging, junk mail, etc., white glue and a small brush or a glue stick, a scissor and a black marker. In no time at all you can make a whole herd of them! Or, maybe you would like to try making a Patchwork Dog, Or Patchwork Bird. All are sure to turn out beautifully.
Patchwork Horses look quite lovely pasted on a pastel-colored mat board, matted, glassed and framed.
Click here to watch my video on "How To Make A Patchwork Horse"
SHORT AND SWEET ART PROJECT - MAKE A PAPER QUILT
Another really enjoyable art project is making a Paper Quilt. Like the Patchwork Horse, all you will need for materials is: Several sheets of sketch book paper, found papers from magazines, newspapers, junk mail, packaging, etc., a small brush and white glue or a glue stick, scissors, a ruler and a pencil.
Once you have made a Paper Quilt using triangles, you may want to explore other geometrical shapes as templates--like diamonds, squares or circles. Looking at a book of traditional quilts is a good way to get ideas.
Click here to watch my video on "How To Make A Paper Quilt"

SHORT AND SWEET ART PROJECT - DRAW YOUR HAND
This drawing exercise will help you learn how to draw. You have to look closely and try to get the shape and form of your hand.
Doing five or six of these exercises will develop your drawing skills even farther! This exercise can look formidable. but I tell my students to relax, keep loose and have fun with it! No fair putting your hand out flat on the table and tracing around it!
Click here to watch my video on how to "Draw Your Hand."

SHORT AND SWEET ART PROJECT - DRAW A FLOWER WITH CONTE CRAYON
This popular YouTube art demonstration video has introduced a lot of people to conte crayon. Here is a great way to learn how to use conte crayon to create light and shadow! You don't need drawing skills to make a lovely drawing and playing with light and shadow is a lot of fun!
Conte crayons can be purchased singly or in small set that are relatively inexpensive. For this project you will need a sketch book, a conte crayon, and (preferably) a kneaded eraser.
Click here to watch my video on how to "Draw A Flower With Conte Crayon."
SHORT AND SWEET ART PROJECT - DRAW A FLOWER WITH COLORED PENCILS
Using my favorite flower subject, one of my Gerbera daisies, I demonstrate how to begin a basic drawing then slowly overlay colors with colored pencils.
My favorite brand is Prismacolor, and they come in small sets that are fairly inexpensive. The quality of these pencils is superior to other school quality or kid's colored pencils and will produce rich colors in shading and solid areas. Just a sketch book and a small set of Prismacolor will get you hooked on drawing with these soft, smooth pencils!
Click here to watch my video on how to "Draw A Flower With Colored Pencils."
SHORT AND SWEET ART PROJECT - DRAW A FLOWER WITH OIL PASTELS
With a flower as the subject (again!) bright, vibrant color is explored. This exercise works best with good quality oil pastels (a little set of six or twelve is good.) Oil pastels are superior in color density to crayons and can be laayered for exciting visual effects.
I have to admit that my kid's class using crayons on construction paper had a lot of fun doing this project, but had they been using oil pastels, the results would have been much better! And of course, when no flower is available, a picture of a flower or even an imaginary flower can be inspiring subject matter also.
Click here to watch my video on how to "Draw A Flower With Oil Pastel."




SHORT AND SWEET ART PROJECT - DRAW A FLOWER WITH PENCIL
The Gerbera daisy from my garden (again!) was the perfect subject matter for a drawing. This is a great project for beginners as well as more advanced students. I show how to start out, put down the basic shapes and work toward detail.
Practicing this drawing exercise is a great way to begin to draw what you see and requires the student to look closely at the flower, translate it to a basic form, then proceed to go into more detail with the shapes of the petals, the stem and the water container.
I have found that this is also a good project for children and, with a little guidance for shading and making highlights, awesome drawings are made! All that is need here is a sketch book, a soft pencil (like at 2b) and an eraser--a pink pearl, white or kneaded eraser works just fine.
Click here to watch my video on how to "Draw A Flower With Pencil."




SHORT AND SWEET ART PROJECT - DRAW A HORSE WITH PENCIL
This is a good exercise to do first, before doing the water color and pencil horse because students get some experience in creating the horse-form. I encourage students to feel free to change the horse into their own imaginary animal so that they don't feel bound or intimidated by having to copy a form.
I encourage students to do several, even playing the video again a couple times, then trying the drawing on their own with the idea that they can change the instruction to suit the way they want to do it!
Click here to watch my video on how to "Draw A Horse With Pencil."



SHORT AND SWEET ART PROJECT - DRAW A HORSE WITH WATER COLOR AND PENCIL
This video will show you how to draw a horse, using simple, circular forms, then adding the horse's legs and head. A simple wash of water color completes the picture.
Working "fast and loose" creates the most exciting horses. We've tried this technique with turtles, birds, fish and dogs. The results are often surprising and encouraging to students when they discover that by working spontaneously, they can create some great stuff!
Although pan colors are OK, I think results are better with tube water colors--and small sets are not expensive. I do think that 140 lb. cold press water color paper is necessary, as sketch book paper absorbs the color, wrinkles and generally produces unhappy results.
Click here to watch my video on how to "Draw A Horse With Water Color And Pencil"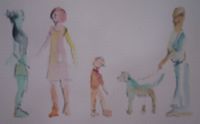 SHORT AND SWEET ART PROJECT - PAINT WATER COLOR PEOPLE
This is a fun project for beginners and more accomplished students alike! Keeping loose and experimenting with brush strokes is fun. I encourage students to fill up five or six sheets of water color paper with all kinds of squiggles, stripes, question marks, etc.
When they are finished, it is time to look carefully at their brushwork and see what images they can find. When they find an image, I ask them to draw it, using a pencil or pen to complete the water color image.
It is amazing what they come up with! We all agree that they never would have thought of doing a water color of a dragon, or a strange tree or marching bugs!
Click here to watch my video on how to "Paint Water Color People"




SHORT AND SWEET ART PROJECT - PAINT A LANDSCAPE WITH WATER COLOR
Get out your water colors and start splashing! If you have a good quality set of at least twelve tube colors and are working on 140 lb. cold press water color paper, all the better.
I've had fun with kids with this project--using pan water colors or temperas on sketch book paper. If it's a nice day, doing it outside is great. Kids like the idea of not having to worry about messing a table or spilling the water!
But we've had fun indoors, too. On a cold and rainy day, my three young students enjoyed looking at a photo of a landscape on a calendar and doing a landscape mural on a big piece of shelf paper.
Click here to watch my video on how to "Paint A Landscape With Water Color"
Got a Short and Sweet Art Project you would like to share?  Contact me!