Real Feedback
You said everybody can draw, even if they can't draw a straight line. So I am working on how you told me to do the still life and really am having fun! Just want you to know I'm drawing and shading and love it!
Millie
----
Our Girl Scout Troop did the landscape drawing lesson at Camp, then we had a show of their work. Even the counselors were impressed!
Thanks, Lois!
Mrs. Ritter and daughter Jennifer
Frequently bird and fish forms are found as recognizable images in doodles. The student that did this doodle remarked that she could never have thought to draw those graceful shapes. Later, she used similar shapes in a painting.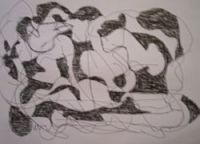 The student developed this pen and ink doodle drawing into a musical movement of swirling shapes of black and white.


Above is a student pen and ink drawing of drapery. Seeing drapery as geometrical shapes like cylinders or simple shapes like hills and valleys will help you visualize how to draw the folds correctly. Look carefully at the forms, sketch them first as the simple forms you see (cylinders, hills and valleys.) Then look again and see how the drapery differs from the simple forms.
With this technique, so much of the line has to express the actual form! With a little practice, your line can articulate any volume, form or shape. An exquisite line is like a haiku or a beautiful little poem.
This method of simplifying what you see works well for anything that entices your eye and makes you want to draw it, whether it be your cat, an old log on a seashore, a house or a self portrait.