PAINTING WITH OILS
Art Materials--What You Will Need
Here is a list of the basic oil colors you will need for the video projects. There are many brands that offer student quality oil colors and you will find them to be more economical also!
2 oz. tube Cadmium Yellow
2 oz. tube Cobalt or Pthalo Blue
2 oz. tube Cadmium Red Medium 2 oz. tube Alizarin Crimson
2 oz. tube Permanent Green
7.6 oz. tube Titanium White
8 oz. bottle of Turpinoid (Neutralthin)OR
8 oz. bottle gum spirits turpentine
1/4" width flat synthetic bristle brush(small
1/4" width round synthetic bristle brush (small)
1/2" width flat synthetic bristle brush (medium)
1/8" width round synthetic bristle brush(very small)
One paper or plastic palette-approximately 9" x 12" size
Three 9"x12" stretched canvases
One 9"x12" good quality sketch book
One drawing pencil, soft lead such as 2B
One Pink Pearl or White eraser
Hand Cleaner (Gojo)
Paper Towels
Two clean glass jars with screw on lids
The difference between turpentine and Turpenoid is that Turpenoid is odorless. Some students prefer it because there is no heavy turpentine odor. Both work well as thinners.
Have two turpentine/thinner containers, preferably glass jars that can be capped. One turpentine/thinner container will be used for cleaning your brushes. Use the other another for diluting your oil colors when you paint. You also will need towels and a hand cleaner with make clean up easy.
You can conveniently purchase many of the materials online at Amazon.com. Just click on the picture of the product.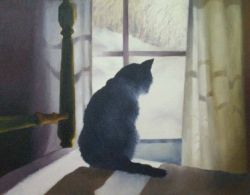 "Patti's Winter"
Oil painting by
Lois DeWitt


This video shows an excellent exercise for learning the properties of oil paint and how to make gradations of colors to create the appearance of light and dark.
This video shows how I painted my "Poodle And Plant" series. I like using vibrant colors and Charley, of course, is my favorite subject.
!


Here in this video I used a collage I had made as the subject of my oil painting. If you are working from a photo or picture, you can use this approach as well.
This is a good beginner lesson using a small canvas and a small seashell as the subject.