Art Lesson FAQ's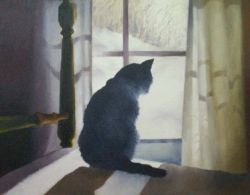 "Patti's Winter"
Oil Painting by
Lois DeWitt

Over the years I have collected the questions that my students and viewers have asked me. I have (finally) compiled them, with my responses and hope this information will be helpful to you.
If you have any questions regarding the Free Online Art Classes.com art lessons or art instruction in general, just click on the "Contact Me" button on the left and email me. I will enter your question here with my response.
Click here to see my Ezine article on " Improve Your Life Through Art"
Frequently Asked Questions:
Question: I'm 64 and interested in taking art lessons. I have looked at your website, but can't decide which lessons to take. What art lessons are good for somebody my age to begin with?
Response: What ever lessons interest you are the best because if you are interested in learning a certain skill or technique, it will be easier and more fun to learn. All of my online art lessons were created for beginning students, so all you have to do is decide what you want to take and begin learning!
-----
Question: I want to learn how to draw and so I will take the Basic Drawing and see how it goes. When I finish the six lessons, what do I do next?
Response: I intend to create Intermediate and Advanced Drawing lessons for Free Online Art Classes in the near future. Please let me know when you have completed the Basic.
Question: What is the best acrylic paint to use?
Response: There a many good brands of acrylic paint available today. I think Golden has good student quality paint, also Galeria which is made by Winsor-Newton and also paints by Daler-Rowney are good econmical paints for beginning students.
-----
Question: I noticed that some other drawing methods I see online teach shading using several different pencils. Is that better than using just one for drawing and shading?
Response: I think the multiple pencil method is worth checking out. Personally, I feel that using just one pencil, especially for learning basic drawing and shading techniques, produces good results.
-----
Question: My uncle gave me a color wheel that he says will help me with mixing colors for my painting. I tried mixing some of the colors an it was fun, but if I am doing a still life or something, I don't necessarily have to use the wheel, or do I? I you don't mention color wheels at all in your lessons.
Response: Color wheels are an aid that some painters use. Personally, I think it is much more important to learn how to mix the colors that you need through trial and error. You learn several things in doing that--how certain colors interact with others, how consistencies vary in colors and how some colors are strong and others are weak. A color wheel may tell you proportions, but doesn't account for consistencies and strength in colors. Also, a paint color, for example, Pthalo Green, may vary between brands. For example, a Winsor-Newton Galeria Pthalo Green may have a different strength and consistency than a Daler-Rowney Pthalo Green.
-----
Question: I have taken several different online drawing lessons, some of which I have paid for. I can draw an eye and a nose, and hair, but I don't feel like I can draw well, yet even though I did the work and practiced like they tell you to do. I can shade pretty well but I still can't draw.
Response: I hope you will complete the six Basic Drawing Lessons I offer here on this website. The beginning exercise are important to learn, but when you get into drawing a still life or a self-portrait, you really have to learn the skill of seeing. The pencil gauge and grid methods will help you to see the subject matter.
I don't endorse teaching how to draw specific items like eyes, noses, lips, etc. because I think these methods just require the student to copy a small part of the subject matter out of context and consequently, the student never learns how to see in order to draw.
The seeing skill can be accomplished by anyone, although it is demanding and takes a bit of time to learn. Once a student learns how to see in order to draw, a huge and rich world of visual material becomes available and the student gains the skill and confidence to be able to draw anything. This is really what drawing (and painting, sculpting,etc.) is all about.
Question: My boyfriend and I ran a "collage camp" this summer for some kids whose parents can't afford to send them to camp. We used your videos a lot and had so much fun. I'm keeping on with collage and will have a show this fall at a local art gallery here. My question--is collage considered an art form? I like doing it but I can't draw or paint.
Response: Collage is an art form. Drawing and painting skills don't define an art form. Drawing is drawing and painting is painting and collage is collage. In art school I had to learn them all and more, including sculpting, welding, printmaking, color theory, etc. But you don't have to get an art degree to show in an art gallery! Best of luck with your show!
-----
Question: I am interested in drawing with colored pencils. What kind of pencils should I use?
Response: I like Prismacolor pencils. They are well made, soft and the colors are beautiful! You can start with a set of twelve. They come in larger sets and are sold singly. Enjoy!
-----
Question: In doing portraits, they say there are certain oil paints that are good for flesh color. Do you know which ones they are?
Response: There are flesh colors in oil paints, but all skin is not the same. Observing your subject and see the various colors of the skin tones is far more important than just simply applying a flesh color and hoping it will work for depicting your subject.
-----
Question: Working with photos, how close do you have to get representing it?
Response: It is your choice. You can render the photo, that is, faithfully replicate the image, or you can apply your own style and change it. You can even use a photo as inspiration to create an abstract artwork! The decision is yours. What way of working interests you most?
-----
Question: I frequently have "artist's block," sort of like "writer's block" where I get stalled out on a painting and just can't seem to get anywhere with it. Most of the time I just put it aside, hoping to work on it later. I have a closet full of those paintings I intend to work on and never do! What can I do to get rid of my "block?"
Response: I get "blocks" too, I think everyone who is creative does. If that happens to a student, I will usually say, "Just keep working until you like it."
Easier said than done, but so true--I have to follow my own advice and just keep painting and much of the time, eventually I begin to like the painting and sometimes a really good painting comes out of that long journey.
I think why this happens is that we have another side of our brain that often tells us to quit or give up, especially when we are frustrated. You can break through this simply by just dismissing the disparaging thoughts and plugging on.
Try it! Keep on keeping on and see if your painting comes around and you begin to like what you are doing. Worst case scenario is you end up not really liking it at all-but knowing what you don't like is just as important as knowing what you like--indeed, something has been learned that will help you make decisions on what direction to take in your work. Hope this helps!
-------
Got a question or comment? Contact me!  I reliably respond  quickly (well, within a week for sure.)